BRITBASE - British Chess Game Archive
Tournament: 51st British Chess Championship •
40/176 games plus 5 part-games, plus 19 games from subsidiary sections
Venue: West County Modern School, Whitby • Dates: 17-28 August 1964 • Download PGN • Last Edited: Wednesday 17 November, 2021 6:21 PM
1964 British Chess Championship, Whitby

1964 British Chess Championship
Resid.
1
2
3
4
5
6
7
8
9
10
11
Total
1
Haygarth,Michael John
Leeds
♦ 1/13
◊ ½/3
♦ 1/6
◊ ½/20
♦ 1/4
♦ 1/5
◊ 1/10
◊ 1/2
♦ ½/11
◊ 1/12
♦ ½/7
9
2
Hindle,Owen Mark
Norwich
♦ 1/24
◊ ½/6
♦ ½/3
◊ ½/12
♦ 1/19
◊ 1/11
◊ ½/4
♦ 0/1
◊ ½/7
♦ ½/13
◊ 1/5
7
3
Cafferty,Bernard
Smethwick
◊ 1/26
♦ ½/1
◊ ½/2
♦ ½/10
◊ 1/22
♦ ½/4
◊ ½/8
♦ ½/7
◊ ½/5
♦ 1/11
♦ ½/6
7
4
Littlewood,Norman
Sheffield
♦ 1/14
◊ 1/30
♦ 1/5
♦ 1/8
◊ 0/1
◊ ½/3
♦ ½/2
◊ ½/11
♦ 0/6
♦ ½/7
◊ 1/10
7
5
Golombek,Harry
Chalfont St Giles
♦ 1/32
◊ 1/19
◊ 0/4
♦ 1/26
♦ 1/20
◊ 0/1
◊ ½/7
♦ 1/10
♦ ½/3
◊ 1/6
♦ 0/2
7
6
Littlewood,John Eric
Skegness
◊ 1/29
♦ ½/2
◊ 0/1
♦ ½/17
◊ ½/9
♦ ½/15
◊ 1/21
♦ 1/8
◊ 1/4
♦ 0/5
◊ ½/3
6½
7
Penrose,Jonathan
London
♦ 0/30
◊ 1/14
♦ ½/27
◊ 1/23
♦ ½/11
◊ 1/18
♦ ½/5
◊ ½/3
♦ ½/2
◊ ½/4
◊ ½/1
6½
8
Clarke,Peter Hugh
Woodford Green
♦ ½/20
◊ 1/32
♦ 1/12
◊ 0/4
♦ ½/18
◊ 1/21
♦ ½/3
◊ 0/6
♦ ½/15
◊ ½/9
◊ 1/17
6½
9
Fuller,Ronald A
Ilford
◊ ½/21
♦ ½/17
◊ 0/10
◊ 1/24
♦ ½/6
◊ ½/19
♦ 0/11
◊ 1/16
♦ 1/27
♦ ½/8
◊ 1/13
6½
10
Seppings,John L
York
♦ ½/11
◊ ½/23
♦ 1/9
◊ ½/3
♦ 1/13
◊ 1/20
♦ 0/1
◊ 0/5
♦ ½/17
◊ 1/14
♦ 0/4
6
11
Ansell,Jeffrey
Cheltenham
◊ ½/10
♦ ½/18
◊ 1/28
♦ 1/21
◊ ½/7
♦ 0/2
◊ 1/9
♦ ½/4
◊ ½/1
◊ 0/3
♦ ½/15
6
12
Beach,Thomas John
Liverpool
◊ 1/28
♦ ½/22
◊ 0/8
♦ ½/2
◊ ½/17
♦ 1/30
◊ ½/13
◊ 1/20
♦ ½/14
♦ 0/1
◊ ½/16
6
13
Parr,David
London
◊ 0/1
♦ ½/28
♦ 1/31
◊ 1/27
◊ 0/10
♦ 1/22
♦ ½/12
◊ ½/17
♦ 1/20
◊ ½/2
♦ 0/9
6
14
Chesters,Graham
Crewe
◊ 0/4
♦ 0/7
◊ 1/29
♦ 1/25
◊ ½/15
♦ ½/17
◊ ½/18
♦ 1/26
◊ ½/12
♦ 0/10
◊ 1/21
6
15
Parr,Frank
London
♦ 1/31
◊ 0/20
♦ 0/19
◊ 1/16
♦ ½/14
◊ ½/6
♦ ½/26
♦ 1/18
◊ ½/8
♦ ½/17
◊ ½/11
6
16
Pritchard,David Brine
Milford
◊ 0/22
♦ 1/29
◊ 0/18
♦ 0/15
◊ ½/27
◊ 1/32
♦ 1/30
♦ 0/9
◊ 1/23
♦ 1/26
♦ ½/12
6
17
Winser,W Arthur
Hastings
♦ ½/27
◊ ½/9
♦ ½/30
◊ ½/6
♦ ½/12
◊ ½/14
♦ 1/19
♦ ½/13
◊ ½/10
◊ ½/15
♦ 0/8
5½
18
Firth,Malcolm
Chadderton
♦ ½/23
◊ ½/11
♦ 1/16
◊ ½/19
◊ ½/8
♦ 0/7
♦ ½/14
◊ 0/15
♦ ½/21
◊ 1/20
♦ ½/24
5½
19
Fazekas,Stefan
Buckhurst Hill
◊ 1/25
♦ 0/5
◊ 1/15
♦ ½/18
◊ 0/2
♦ ½/9
◊ 0/17
♦ ½/21
◊ ½/26
♦ 1/28
◊ ½/23
5½
20
Scholes,James Edward
Sheffield
◊ ½/8
♦ 1/15
◊ 1/22
♦ ½/1
◊ 0/5
♦ 0/10
◊ 1/24
♦ 0/12
◊ 0/13
♦ 0/18
◊ 1/28
5
21
Harris,Ronald A
Croydon
♦ ½/9
◊ ½/27
♦ 1/23
◊ 0/11
◊ 1/26
♦ 0/8
♦ 0/6
◊ ½/19
◊ ½/18
♦ 1/22
♦ 0/14
5
22
Levens,David G
East Leake
♦ 1/16
◊ ½/12
♦ 0/20
◊ 1/30
♦ 0/3
◊ 0/13
♦ ½/23
◊ ½/27
♦ ½/25
◊ 0/21
♦ 1/31
5
23
Thomas,Andrew Rowland B
Tiverton
◊ ½/18
♦ ½/10
◊ 0/21
♦ 0/7
◊ 0/24
♦ 1/25
◊ ½/22
♦ 1/32
♦ 0/16
◊ 1/31
♦ ½/19
5
24
Basman,Michael John
Claygate
◊ 0/2
♦ 1/25
◊ 0/26
♦ 0/9
♦ 1/23
◊ ½/29
♦ 0/20
◊ 1/31
◊ 0/28
♦ 1/32
◊ ½/18
5
25
Davie,Alexander Munroe
Dundee
♦ 0/19
◊ 0/24
♦ ½/32
◊ 0/14
♦ ½/31
◊ 0/23
◊ ½/28
♦ 1/29
◊ ½/22
♦ 1/27
◊ 1/30
5
26
Coast,Peter
Cheltenham
♦ 0/3
◊ 1/31
♦ 1/24
◊ 0/5
♦ 0/21
♦ 1/27
◊ ½/15
◊ 0/14
♦ ½/19
◊ 0/16
♦ ½/29
4½
27
Abrahams,Gerald
Liverpool
◊ ½/17
♦ ½/21
◊ ½/7
♦ 0/13
♦ ½/16
◊ 0/26
◊ 1/29
♦ ½/22
◊ 0/9
◊ 0/25
♦ 1/32
4½
28
Johnstone,John A
Glasgow
♦ 0/12
◊ ½/13
♦ 0/11
◊ 0/32
♦ 0/29
◊ 1/31
♦ ½/25
◊ ½/30
♦ 1/24
◊ 0/19
♦ 0/20
3½
29
Soesan,Joseph M
Cobham
♦ 0/6
◊ 0/16
♦ 0/14
◊ ½/31
◊ 1/28
♦ ½/24
♦ 0/27
◊ 0/25
♦ 0/32
♦ 1/30
◊ ½/26
3½
30
Holmes,Hugh D
Glasgow
◊ 1/7
♦ 0/4
◊ ½/17
♦ 0/22
♦ 1/32
◊ 0/12
◊ 0/16
♦ ½/28
♦ 0/31
◊ 0/29
♦ 0/25
3
31
Hardy,Otto Henry
Loughborough
◊ 0/15
♦ 0/26
◊ 0/13
♦ ½/29
◊ ½/25
♦ 0/28
◊ 1/32
♦ 0/24
◊ 1/30
♦ 0/23
◊ 0/22
3
32
Orchard,Christopher R
Eastbourne
◊ 0/5
♦ 0/8
◊ ½/25
♦ 1/28
◊ 0/30
♦ 0/16
♦ 0/31
◊ 0/23
◊ 1/29
◊ 0/24
◊ 0/27
2½
RESULTS IN OTHER TOURNAMENTS [main sources BCM, October 1964, pps 295-297 & 1964/65 BCF Yearbook]
The title also changed hands in the British Ladies' Championship. With the strongest field for some years, this tournament produced an exciting finish. Captain Sunnucks snatched victory from Mrs. Pritchard by beating her in a fluctuating last-round game, whereupon Miss Tranmer, who could still tie, missed her chance against the holder, Mrs. Bruce, and was forced to agree to a draw when left with just two Bishops versus one!
1964 British Ladies Championship
1964 British Ladies Chess Championship
Resid.
1
2
3
4
5
6
7
8
9
10
11
12
13
14
Total
1
(Patricia) Anne Sunnucks
London
1
1
1
1
1
0
1
1
1
0
½
1
1
10½
2
Elaine Pritchard
Milford
0
½
½
1
1
1
1
0
1
1
1
1
1
10
3
Eileen Betsy Tranmer
London
0
½
½
1
½
½
1
1
1
1
1
1d
1
10
4
Rowena Mary Bruce
Plymouth
0
½
½
½
1
0
½
½
1
1
1
1d
1
8½
5
Mary Araluen Elizabeth Anne Henniker-Heaton
London
0
0
0
½
½
½
1
1
½
1
1
1d
1
8
6
Sheila A Corbyn
Birmingham
0
0
½
0
½
1
0
½
1
1
1
1d
1
7½
7
Nancy C Elder
Dundee
1
0
½
1
½
0
0
½
1
½
1
1
½
7½
8
Gillian A Moore
Southampton
0
0
0
½
0
1
1
1
0
½
1
1
1
7
9
Cicely Mary Murphy
Manchester
0
1
0
½
0
½
½
0
1
1
1
½
½
6½
10
Mrs E Ingram *
Whitchurch
0
0
0
0
½
0
0
1
0
½
1
1d
1
5
11
Margaret Eleanor Lander
Gillingham
1
0
0
0
0
0
½
½
0
½
½
1d
1
5
12
Leah Margaret Hogarth
Glasgow
½
0
0
0
0
0
0
0
0
0
½
0
1
2
13
Olive Richards §
Cobham
0
0
0d
0d
0d
0d
0
0
½
0d
0d
1
½
2
14
Sarah Margaret (Peggy) Steedman
Bothwell
0
0
0
0
0
0
½
0
½
0
0
0
½
1½
* BCM gives 'Miss'; BCF Yearbook gives 'Mrs' which is correct. Born in Vienna, according to the Shropshire chess website. From some genealogical researches, I think she may have been Anneliese Degenhardt (1921-2011), marrying George A Ingram in Wellington, Shropshire, in 1951. Not sure what the 'E' stands for - perhaps she changed her forename to something more British when she married.
§ Olive Richards withdrew after 7 rounds
British Under Twenty-one Championship.—C. F. Woodcock 8½; R. A. Beach 8; A. J. Whiteley 7½; B. Green, W. R. Hartston, and M. A. Stevenson 7; M. J. Conroy, A. T. Ludgate, and G. A. Winbow 6½; A. J. Booth, P. R. Hindley, P. M. Jamieson, V. W. Knox, B. Kooiman, and M. H. Miller 6; E. Davis, R. J. Gamble, and W. B. Wells 5½; G. J. Burt, D. M. Gostyn, R. Keely, D. Lamb, and H. M. Wilkins 5; P. Durrant, R. W. Maskell, R. Mylward, and R. G. Taylor 4½; B. Cook and R. E. Graf 4; R. J. Lighton and J. N. Walker (withdrew after eight rounds) 3; and D. T. Hartshorne 2.
British Boys' Under Eighteen Championship.—B. J. Denman and R. D. Keene 10½; P. Almond 9½; N. J. Patterson 9; L. P. Burnett and J. S. Rastall 8½; T. Bimpson, R. B. Davies, B. Eley, P. C. Griffiths, N. J. Kalton, D. R. Morris, R. Nicholas, P. J. Patience, and B. R. Smith 8; P. Blackman, P. M. George, J. Hall, P. W. Murphy, C. Needham, D. J. Strauss, and M. N. Walsh 7½; B. H. Birchall, G. S. Botterill, S. R. Curry, R. V. M. Hall, D. M. Howard, T. D. Hughes, R. C. Lemon, G. H. T. Parsonage, T. A. K. Thomson, and B. Whitehouse 7; P. Cartnel, B. L. Cartwright, P. R. Furnborough, P. J. Gregory, J. G. Kensit, P. R. Morriss, G. L. Porter, D. J. Sully, and J. W. Wadkin 6½; A. F. Brown, J. F. Brown, W. P. Cartman, A. M. M. Hurman, D. R. Markham, G. M. Peake, M. G. Smith, and J. Tolan 6; N. G. Burne, W. Cole, L. R. A. Fraser, R. P. Greenhaigh, N. J. D. Jacobs, G. A. Jones, R. G. Moore, D. K. Openshaw, D. Welch, and B. Whittle 5½; M. Ash, D. Oakes, D. M. Starkie, and P. R. Wood 5; D. Benjamin and A. Sedgwick 4½; N. Spencer 3½; D, G. Hunter and J. P. Simpson (withdrew after eight rounds) 3; G. Tyrell 2½; B. Brian and D. Westmoreland (both withdrew after six rounds) 1; and A. Woodroffe (withdrew after six rounds) ½.
British Boys' Under Sixteen Championship.—L. S. Tate 9½; M. Smith 9; R. de L. Holmes and P. Taylor 8½; B. G. E. Gosling, I. Myall, and M. Walsh 8; A. Woch 7½; R. Buckler, W. V. Davies, R. T. Donkin, T. D. Harding, J. Molyneux, S. Scott, B. Turner, and L. de Veauce 7; J. G. Enticknap, I. A. Friedlander, A. J. Hughes, I. G. Pick, and M. A. Smith 6½; R. J. Holland, J. Horner, J. Kirk-O'Grady, K. Mullard, M. J. Owen, A. C. Smith, and M. Young 6; C. E. Bailey, C. B. Carter, C. G. Dawkins, A. B. Fisher, R. Hardy, P. McDermott, B. J. Ranson, and F. J. Talton 5½; K. Beer, D. Breen, R. Hedges, A. Pilkington, and T. Wickens 5; T. H. Booth, A. D. Gravett, A. J. Nelder, and V. J. E. Rideout 4½; J. Rees 4; M. J. Kitching 3½; J. Walsh 3; D. M. Bliss (withdrew after eight rounds) 2; and W. Kelsey (withdrew after two rounds) 0.
British Boys' Under Fourteen Championship.—T. J. Gluckman and M. R. Myant 8; M. Dann, T. Hart, and A. M. Walker 7½; M. H. Horton 7; R. G. Eales and P. A. Hutchinson 6½; A. Forster, P. Karmaz, K. Peters, and J. G. Worby 6; T. B. Bennett, C. L. Foster, G. Merriman, D. Ouseley, H. J. Price, M. Staples, and B. Taylor 5½; S. N. Anscombe, S. D. Bailes, G. Brindle, C. J. Brown, S. T. Courtney, P. Hershman.G. M. Hughes, P. R. Lane, and D. Rollinson 5; J. Rickard 4½; J. Dawson 4; R. M. Wilkinson 1½; and R. Kelsey (withdrew after two rounds) 0.
British Girls' Championship.—Miss D. Dobson 5; Miss M. Syme 3½; Miss D. Vincent 3; Miss E. Harman 1½; Miss C. Clarke and Miss H. Tapper 1.
Major Open.—D. Lees 8½; J. A. Lawrence 8; L. Kerkhoff, H. Lamb, and C. B. Wood 7½; P. B. Cook, R. Klugman, and R. Thomas 7; G. Chesters senior, D. G. Ellison, and S. J. Ridout 6½; D. W. Anderton, J. R. Boyce, J. M. Greben, and P. G. Moore 6; A. Cockroft, P. E. Collier, C. A. S. Damant, H. J. van den Herik, C. Kiers, H. G. T. Matchett, J. R. Nicolson, G. I. Rhodes, and S. Wilkinson 5½; L. R. Kirkcaldy, R. C. Lamming, E. P. Noordhoff, and E. P. Ross 5; G. R. Evans, J. A. Flood, D. Gibson, B. Howard, Dr. P. D. Ralph, and E. Roscan. Abbing 4½; C. R. Gurnhill, S. Lambert, C. M. Malcolm, and J. H. Manners 4; and W. A. van Veen 3.
First Class.—R. A. Doney and A. E. Nield 8½; A. G. Sayers 8; J. H. Gardener and Thomas Midgley 7½; G. V. Brangham 7; G. S. Briggs, P. Lyons, R. H. Rushton, and D. J. Strode 6½; W. Bainbridge, M. L. Baumber, C. J. Byrne, B. Crowther, W. Evans, A. Milner, and T. V. Parrott 6; B. J. Ellis, G. R. Garrett, M. J. Hill, J. Ripley, R. G. Thimann, and C. C. Williams 5½; A. Archer (withdrew after ten rounds), E. G. Exell, S. Denham Jacobs, W. D. Johnson, and H. J. Thomas 5; A. F. Crooks, N. J. Davies, I. Eustis, Rev. Kenneth Stuart Procter, and R. Williams 4½; J. A. Edwards and C. Hatch 4; Rev. H. M. Blackett and A. L. Buckland 2; and J. W. Daniels 1½.
Second Class.—M. J. McCabe, C. M. Read, and H. M. J. Stapley 9; R. Canter 7½; S. Welbourne 6; C. R. Frost 5½; Miss J. Pickles and G. O. J. Melitus 4; G. A. M. Boswell and R. W. Duke 3½; A. Terrett 3; and Hilary Cunningham 2.
Special Five-day First Week.—V. J. A. Russ 4½; B. B. Partridge 3½; H. E. Gemmell, L. J. Wheetley, G. Wood, and R. J. de Vry 3; T. Blacker and Rev. J. Caldwell 2½; C. E. Jones 2; G. Burnett, P. R. Rawcliffe, and T. E. Smith 1.
Special Five-day Second Week.—J. W. Thornley 5; K. W. Appleby 4; D. Crook and A. W. B. Taylor 3½; W. A. Bryden, R. N. Harrison, R. Julian, C. B. Russell, T. F. Sayer, and R. J. de Vry 3; Rev. J. Caldwell 2½; Miss P. Garland, G. Burnett, R. Kelsey, and J. Walker 2; A. A. Cameron, G. Clarke, and W. Kelsey 1½; Miss Daphne Garland 1.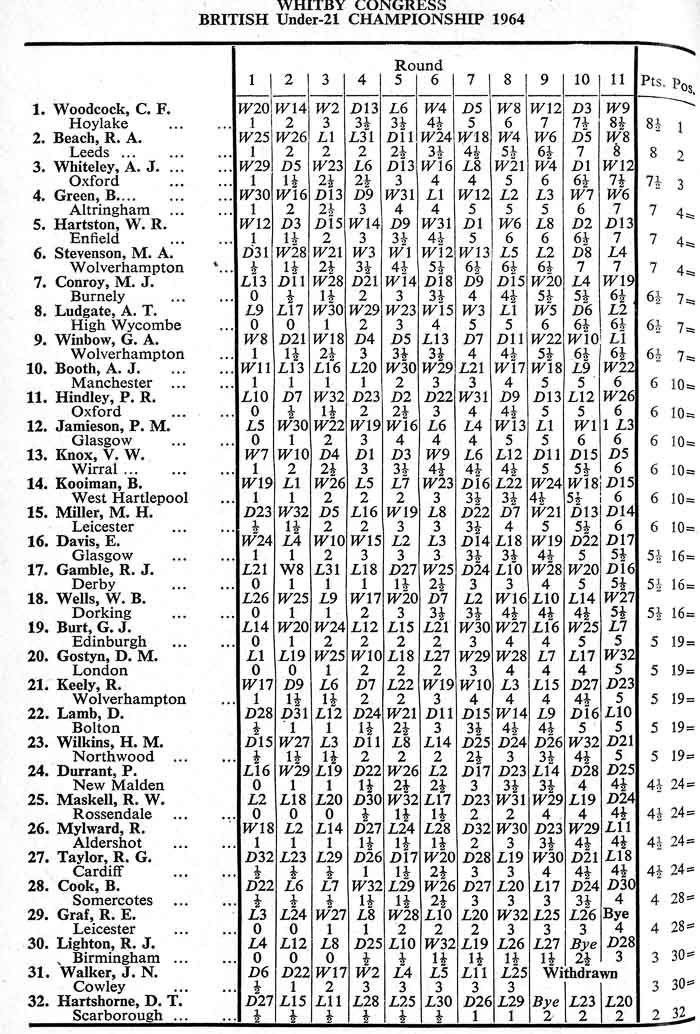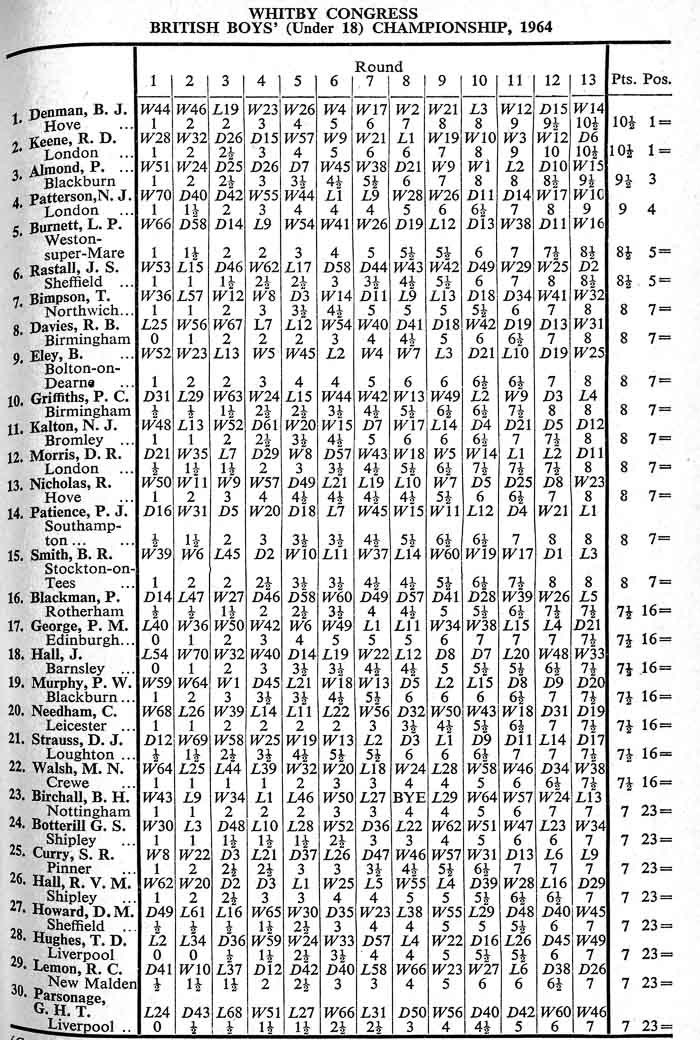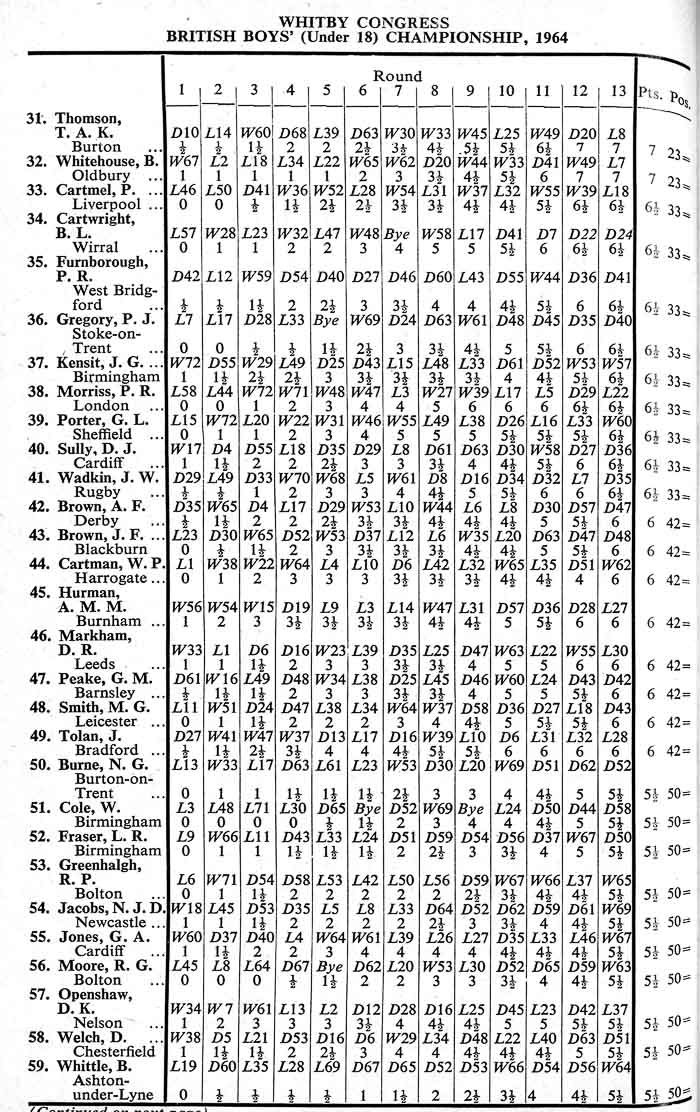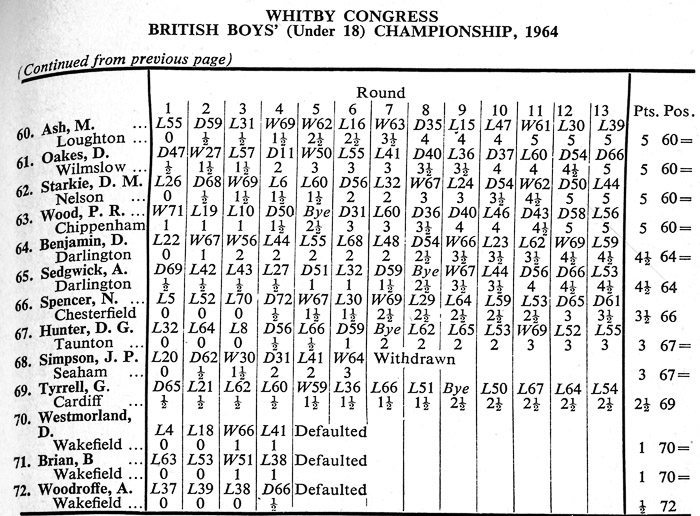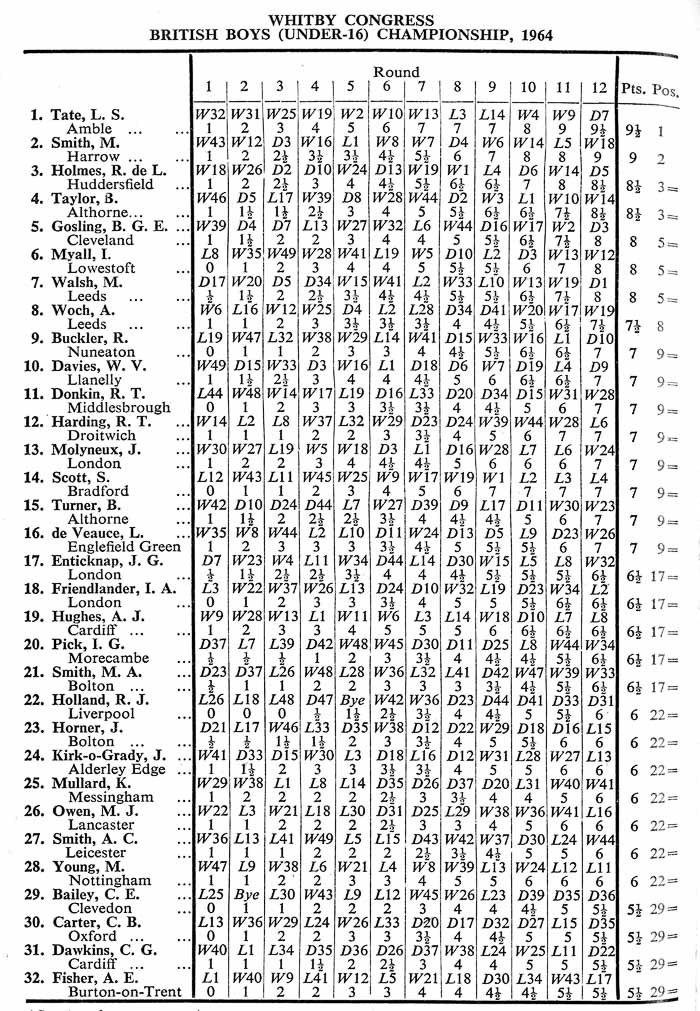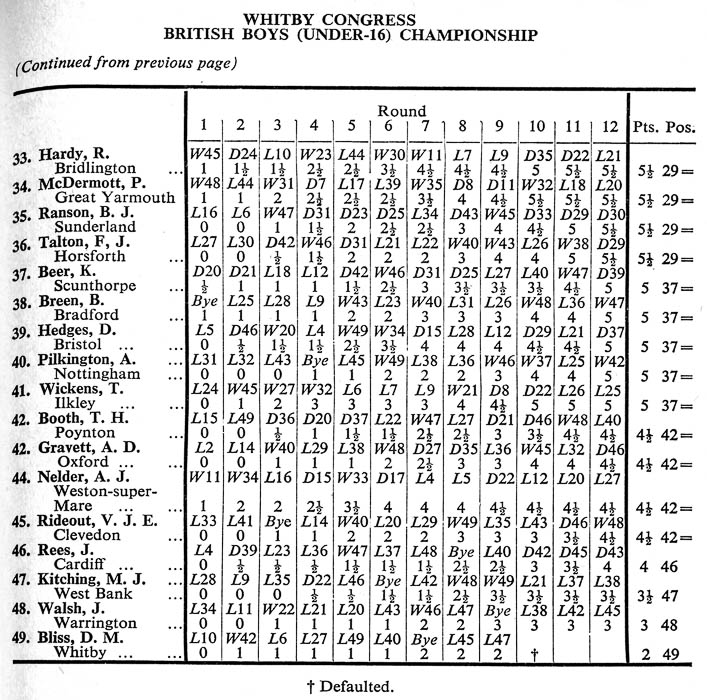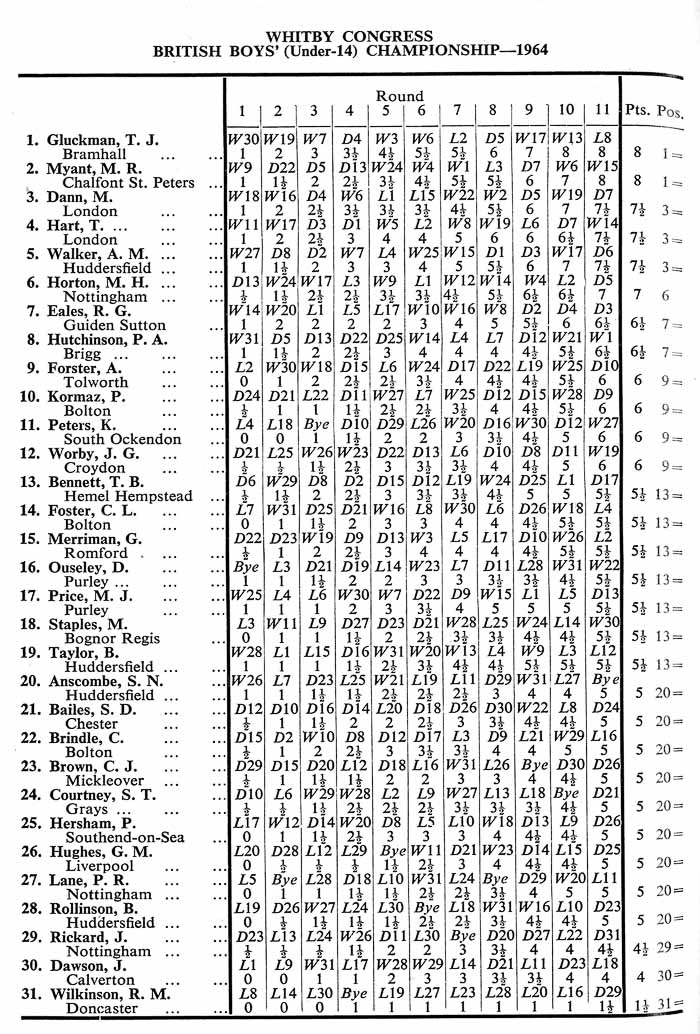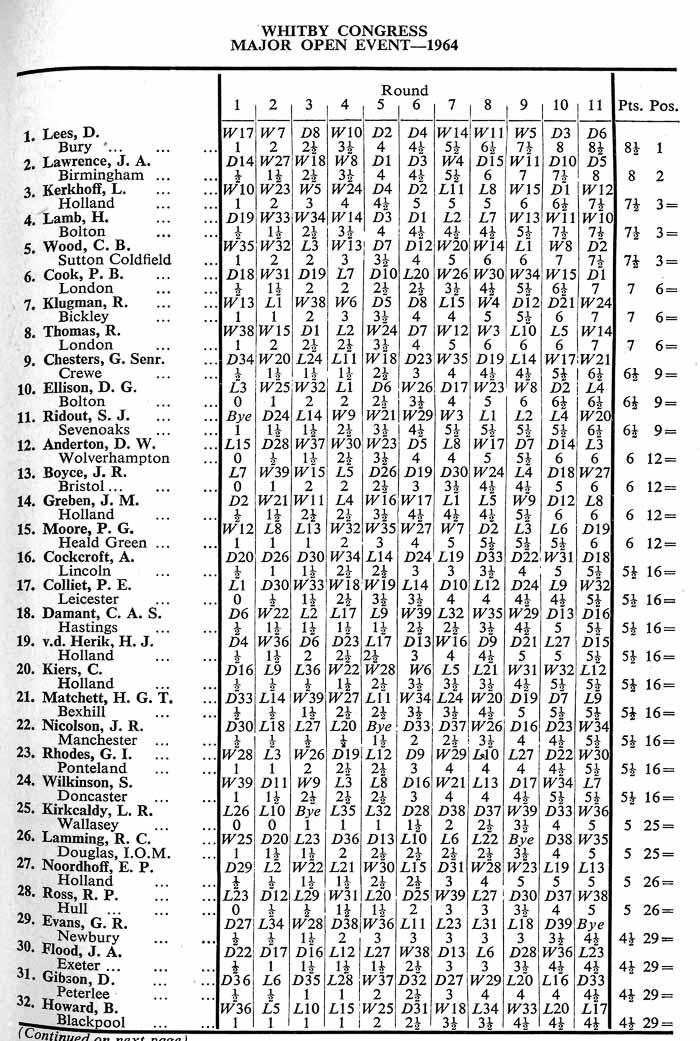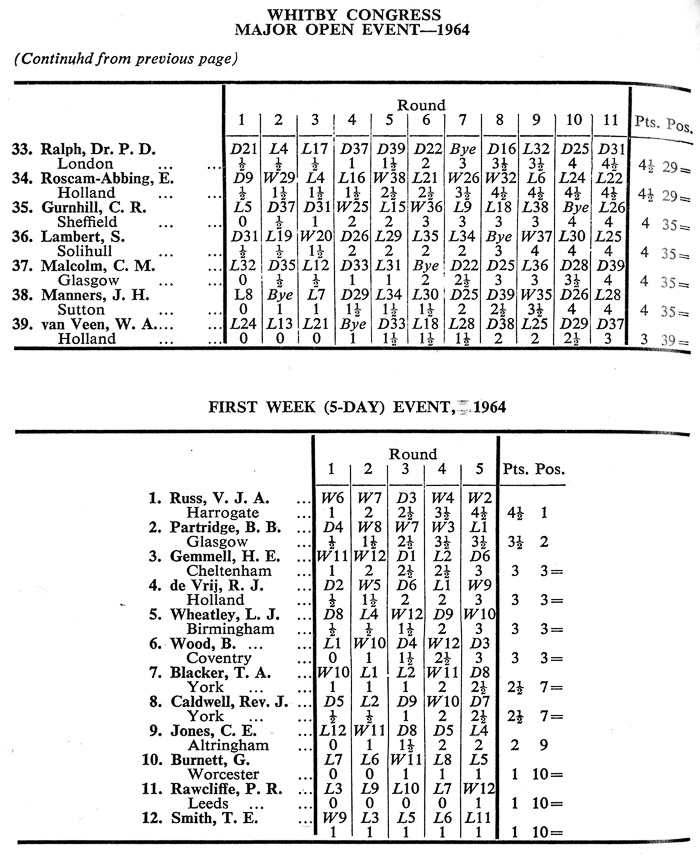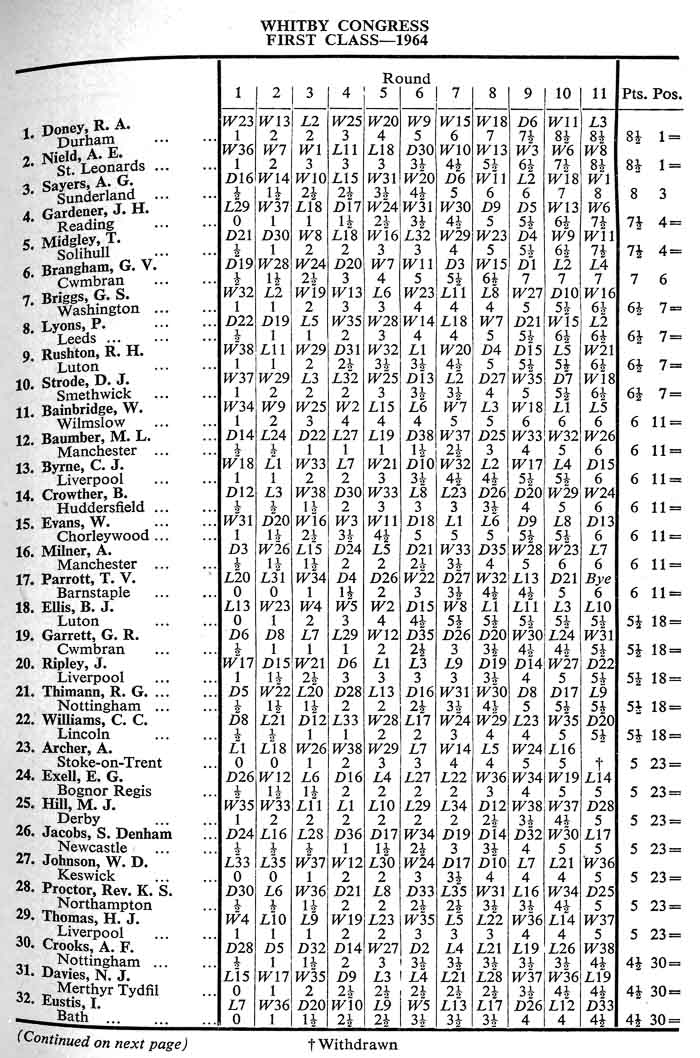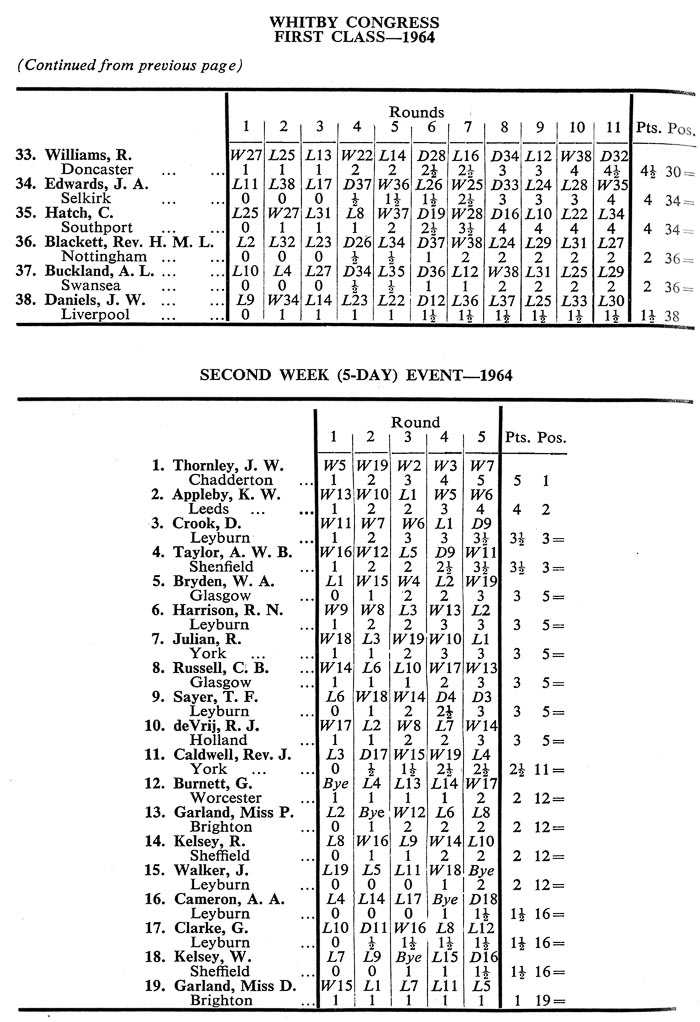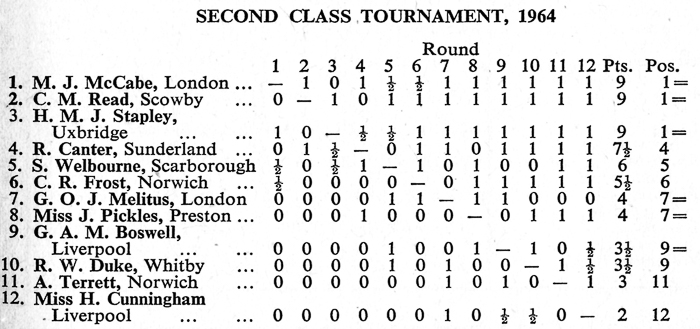 [BCF Yearbook of Chess 1964/65, pages 66-68]
REPORT on (he 51st ANNUAL CONGRESS of the BRITISH CHESS FEDERATION
The Congress was held in the West County Modern School, Whitby, from August 17th-29th, 1964, and once again Whitby attracted more entries than any previous Congress of the Federation, totalling in all 365, of whom twelve withdrew before the commencement. In addition three players took part in both the one-week events.
V. J. Soanes, President of the Federation, was in the Chair at the Opening Ceremony, and Coun. H. B. Cummings, J.P., welcomed the players in a brief and pleasant manner saying how much the Whitby Council and inhabitants were delighted to stage the Championships for the second time in three years, and he then declared the Congress open.
The venue proved to be extremely good and there was sufficient space to allow the large number of players plenty of playing room. An admirable Analysis Room was far enough away from the playing rooms so as to cause no possible interruption to those engaged in the tournaments, whilst the Press Room and Controllers Office were probably the best that has ever been provided. The Catering Service was excellent, adjacent to the Main Hall, and had a staff of pleasant and efficient workers in charge.
Headed by Dr. F. B. Akeroyd, for whom no praise could be too high in his organisation of all the necessary local arrangements, an ample supply of Stewards were provided who all proved of excellent standard. Whilst it would seem to be invidious to mention names in view of the general high standard it is felt that one must report on the grand work done by Mr. F. M. Akeroyd (on the Wall Charts), F. Hodgson, D. Calvert and A. Kennedy (as Recorders) and Mr. Revelly (who acted mainly in the preparation of each room, did a vast variety of jobs, took charge of helping the other stewards, and finally was at all times willing to allow us the use of his car). The excellent work done by the stewards enabled the Controllers' duties to run smoothly.
The Control Team proved to be the best I have had the privilege of heading. All three of my colleagues worked a fantastic number of hours, and even more important they worked together in close harmony. Little more can be said to add to previous reports on the ability of Andrew Smith, who as always was in the thick of the work. With the return of W. Ritson Morry we had a most capable and willing member, and to these two individuals fell most of the work involved in the Swiss pairings. Only on rare occasions was I called upon to assist and this made it possible for me to attend more thoroughly to the manifold duties that are essential. In Ted Caple, new to the Federation Congresses for the first time. I can fairly say he was the outstanding success of the team. He remained calm at all times and quickly received the respect of the players. His greatest achievement was his handling of the chess clocks loaned by the various clubs and players, which he so managed that he was able to return any clock in a matter of seconds to its owner at the conclusion of play.
The Congress must surely go down as a happy and successful one, and incidents were few, and then only of a minor order. I must express the thanks of my team for the tolerance of the competitors in accepting our rulings at all times. The 30-move rule proved to be less of a problem than we anticipated and here again the players accepted the standards we laid down without quibbling. We felt that in the Junior Sections at least it did much to improve their games and it certainly tended to us having more adjournments than expected. Only one instance to our knowledge occurred of players attempting to circumvent this rule—they produced a replica of a game played in 1872!! This was detected and when their attention was drawn to it promptly admitted and so they were the only two to get a game declared as lost to both of them. We do not think they will attempt this in future under any circumstances.
The new rules adopted for the Swiss Tournaments proved a big advance on those previously used, but certain odd situations arose that will need to have them even more amplified and clarified. These we hope to put before the appropriate Committee in the near future. The use of Grading figures for the later rounds in the British Championship put quite a strain on our resources, Andrew Smith made several thousand separate calculations and only because the whole Congress ran well could we guarantee to get the pairings for each of these rounds out in time.
The playing of some of the games on the Sunday proved to be successful. We had only two players who demurred at all and it was arranged for them to receive special consideration. The Juniors definitely appreciated the cutting down of the double-round days and the Control Team also felt they benefited by the new arrangement.
The innovation of single week tournaments also proved good, and in addition to making it possible for those to play who cannot arrange to be there the whole fortnight, it also gives possible scope for late comers to get in one or both of these week's events.
Two meetings for Juniors were held during the Congress and were well attended. Mr. R. G. Wade, during his short stay, managed to entertain by giving a simultaneous display, but unfortunately no one thought of a Lightning Tournament in time for it to be organized.
After the first three days it was found possible to have the three demonstration boards in use and to those juniors who manned them go our thanks. This service was much liked by the spectators and also helped to stop the congestion round the vital boards.
To those who loaned clocks also are due the thanks of all of us. To Mr. Peter Morrish who transported upwards of 140 sets and boards and 60 clocks from London, and later returned to repack them and take them back, very many thanks. To Mr. C. G. Hilton, who came along and did some Control work and to those too innumerable to mention who assisted in work of the Congress go our grateful thanks also.
No Congress can hope to survive without those who contribute to the financial side—their gifts whether large or small are duly noted and appreciated.
Some small difficulty was caused by the omission in the programme of a stated time for renewal of unfinished games in the mornings and we suggest that this be remedied next time. There was also a point raised by the change of rule regarding the Under-21 Championship in the event of a tie for top place, as nothing was stated regarding the other junior events. By and large this Programme was one of the best ever produced for our Congresses.
Mr. R. Simpson, President of the Northern Chess Union, took the Chair at the Closing Ceremony. He called upon the Marquis of Normanby to speak first, which he did in a bright and breezy manner, thanking the Whitby U.D.C., the officials of the local Chess Club, and the Northern Chess Union, whose combined efforts had done so much to make this Congress possible. Coun. H. B. Cummings replied on behalf of the U.D.C. and expressed the hope that it would soon be agreed to hold another B.C.F. Congress in the town when he assured the meeting his Council would be delighted to again do everything in its power to assist. Mr. T. J. Beach spoke on behalf of the players, making the suggestion that it would be helpful to lay on some form of transport for those players staying some distance away from the Congress Rooms and also suggesting that if Catering arrangements could be made to cover the evening adjournments sessions this would be of immense help to both players and officials. To those who had undertaken the catering service he paid a warm tribute. He complimented the work of the Chess Press and went on to praise the work put in by -the two Press Association representatives who had sent out every result in each Championship group daily, often working very late hours. He gave thanks to the work of the Controllers remarking they had kept their problems from the players but he knew of the great amount of labour they had had to do the whole time. Mr. Andrew Smith responded and thanked Mr. Beach for his kind remarks, and he in turn moved a vote of thanks to Dr. F. B. Akeroyd for his tremendous work as local secretary. He also thanked the Headmaster and Governors of the School for the use of such excellent premises, and paid a tribute to the work of the Recorders, Stewards and the players. Following this, Miss Dinah Dobson presented a box of chocolates to the Marchioness of Normanby who then presented the trophies and prizes.
Thus ended yet another memorable Congress.
G. H. SIMMONS.
September 1st, 1964.
---
File Updated
| | |
| --- | --- |
| Date | Notes |
| 20 June 2019 | First upload with 40 complete Championship games, plus 5 part-games, from a possible 176, plus 18 games from the subsidiary events. Complete crosstables and results. |
| 23 July 2019 | One game added from the British Under-16 Championship: Tate 1-0 Buckler. Thanks to Alan Smith for sending the score. |
| 12 May 2020 | One game added from the British Under-18 - Eley 0-1 Nicholas (rd 3). Many thanks to Brian Denman. |