BRITBASE - British Chess Game Archive
Tournament: 17th Hastings Premier 1936/37 (won by Alekhine)
• 45 Premier games + 28 from subsids •

Go to: Previous Year • Next Year
Venue: White Rock Pavilion • Dates: 28 Dec 1936 - 6 Jan 1937 • Download PGN

• last updated: Wednesday September 2, 2020 12:23 PM
1936/37 Hastings Premier

1
2
3
4
5
6
7
8
9
10
Total
1
Alekhine,Alexander
1
½
1
1
1
1
½
1
1
8
2
Fine,Reuben
0
1
1
½
1
1
1
1
1
7½
3
Eliskases,Erich G
½
0
½
½
1
1
½
½
1
5½
4
Feigin,Movsa
0
0
½
1
0
1
1
½
½
4½
5
Vidmar,Milan Sr
0
½
½
0
½
½
1
½
1
4½
6
Tylor,Theodore Henry
0
0
0
1
½
½
0
½
1
3½
7
Winter,William
0
0
0
0
½
½
1
1
½
3½
8
Koltanowski,George
½
0
½
0
0
1
0
½
½
3
9
Menchik,Vera
0
0
½
½
½
½
0
½
0
2½
10
Thomas,George Alan
0
0
0
½
0
0
½
½
1
2½
[BCM, February 1937, pps 49ff in part]
CHRISTMAS CONGRESS AT HASTINGS.
Dr. Alekhine's Excellent Victory.
The 17th annual series of tournaments organised by the Hastings and St. Leonards C.C. was carried through with usual success from Monday, December 28 [1936] to Wednesday, January 6 [1937]. By far the largest part of the work of organisation fell on the hon. secretary, A. F. Kidney, and the hon. treasurer, E. A. Lewcock, and the latter as usual ably conducted the Congress in person. Previous records of 120 competitors in 1934 and 130 last year were beaten by a total of 132 this time, and it looks rather as if some such figure as 120 or 130 would be more or less stabilised in succeeding tournaments until the projected Conference Hall at Hastings is built, when much more floor space and extra convenience will be available.
Although the contingent of foreign players was quite up to its usual numbers, about thirty more, chiefly from the Netherlands, but also from Germany, Hungary and Czecho-Slovakia had to be put off. An invitation to a Russian player had to be cordially declined by the authorities since a Russian tournament was itself shortly due; and Flohr could not come as he is in the middle of his military training. He cabled a wish for the success of the congress. Euwe too was not able to appear. Bogoljuboff was invited, but an unfortunate delay in replying caused the local committee to look elsewhere. However, with two of the latter-day super-masters, Dr. Alekhine and Reuben Fine accepting, two visitors of a few years ago in Dr. Vidmar and E. Eliskases, and a newcomer to England, M. Feigin, nominated by the Latvian C.A., the master element was strong and was reinforced by G. Koltanowski, who, as last year, had the first consideration among the Premier Reserves, and filled a vacancy caused by the last-moment retirement of A. Reynolds, a promising Midland player, owing to sudden business calls. With three of the most prominent British players W. Winter, Sir G. A. Thomas, and T. H. Tylor, and Miss Menchik, who was offered a place on the strength of her excellent performance at Podebrady last July, the personnel of the Premier Tourney, was one of the best all round that Hastings has collected at these congresses.
The usual policy of five foreign and five British players was followed also in the two Premier Reserves sections, and the number of young people engaged was encouraging to those anxious to see the game carried on and increasing in strength as well as popularity. The total of 132 entries was spread over 12 sections of ten players and one of 12 players. When possible, to ease the congestion at White Rock Pavilion, a section or two of the lower classes were accommodated at the Club, where visitors had the unusual pleasure of playing within good sight of the sea, and on one or two days it was worth seeing, though the weather on the whole was quite good for the time of the year.
The Congress was opened by the Deputy-Mayor, Councillor E. M. Ford, who was accompanied on the platform by Mrs. Ford, the president (Mr. H. E. Dobell), Messrs. Kidney, Lewcock, Norman, Rider, and others. Play began at 4 p.m.
The Premier section soon resolved itself into a match for first place between Alekhine and Fine. In the first round Fine got a half-point more than the game was worth against Eliskases, who in trying to win a drawn game got into trouble, and getting short of time, and generally 'rattled,' as he admitted, drifting into a mating position with Fine's Rooks on the seventh and eighth. Alekhine drew a sensational game with Eliskases in Round 3, and both masters won all the other games up to Round 8, when the two met. Then a magnificent effort by the ex-champion in a Lopez game brought him a win and he passed Fine with 7½ to 7. Both had a tight squeeze in the last round, but each scored a draw and they maintained the same order. It is interesting to note the fairly bunched positions of the other eight among themselves, viz., Eliskases 5, Feigin 4½, Vidmar 4, Tylor and Winter 3½ each, Miss Menchik, Koltanowski and Sir G. A. Thomas 2½ each.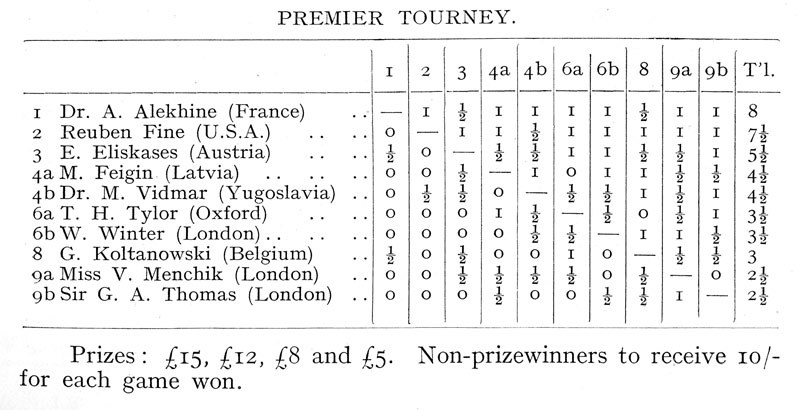 Koltanowski's promotion brought Fraulein Graf into section I (the two sections were of approximately equal strength), and E. J. Diemer took her place in the Major A section. Both A and B were well contested. Prins's recent good practice showed itself in his winning section A. In section B young Mr. Bowen's win against Dr. Landau, who was the victor, was a noteworthy game. It was a pity that Arthur Eva was compelled to retire from the last three rounds, a telegram recalling him owing to a serious accident to a member of his firm. In the two sections were Collins, Bowen and Kitto, all competitors in recent years in the Boys' championship at Hastings Easter tournaments, and Peters just below was another. All are in present residence at the older Universities. Another pleasant feature of these sections is the cordial way some of the former players in the Premier contest, like Michell, Sergeant and Milner-Barry, place themselves in the hands of the organisers for classification purposes.
The two Premier Reserves sections were of approximately equal strength. Prizes : £10, £8 and £6. Consolation prizes as in the Premier contest. N.B. J. Sapira (Antwerp) in Premier Reserves (Section I) is better known as Emmanuel Sapira.
The stronger British women players, including Mrs. Holloway, the present champion, found their way into the two Major sections.
Besides the sectional prizes as given there were three prizes of a guinea each presented by Mrs. A. M. S. Shannon, in renewal of her effort to encourage women's chess. Mrs. Shannon has already got more countries interested and the number of competitors in the women's world championship at Stockholm next August is likely to be twenty, against the twelve at Warsaw.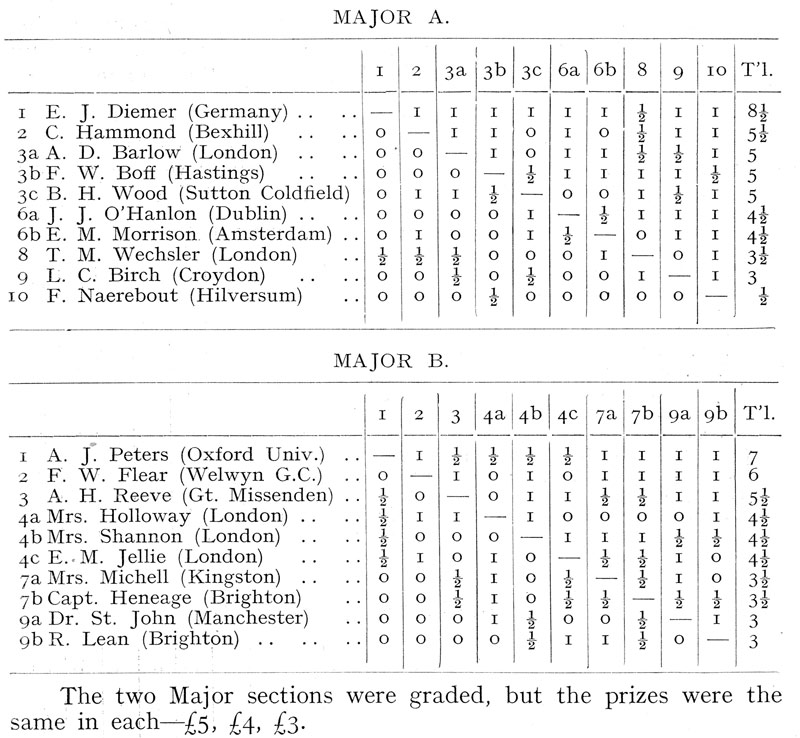 The two Major sections were graded*, but the prizes were the same in each—£5, £4, £3. (* not in the modern sense of the word – it simply meant arranged in order of perceived strength - JS)
Competing in the lower sections were a number of boys and teachers from schools in Coventry and Winchester. These got into the news lately when a team of St. Thomas's School, Winchester, played a match at Coventry. Madame Alekhine's winning a prize gave another interest to the lower sections.
The scores in the First Class sections are given in full, and the others in order of merit.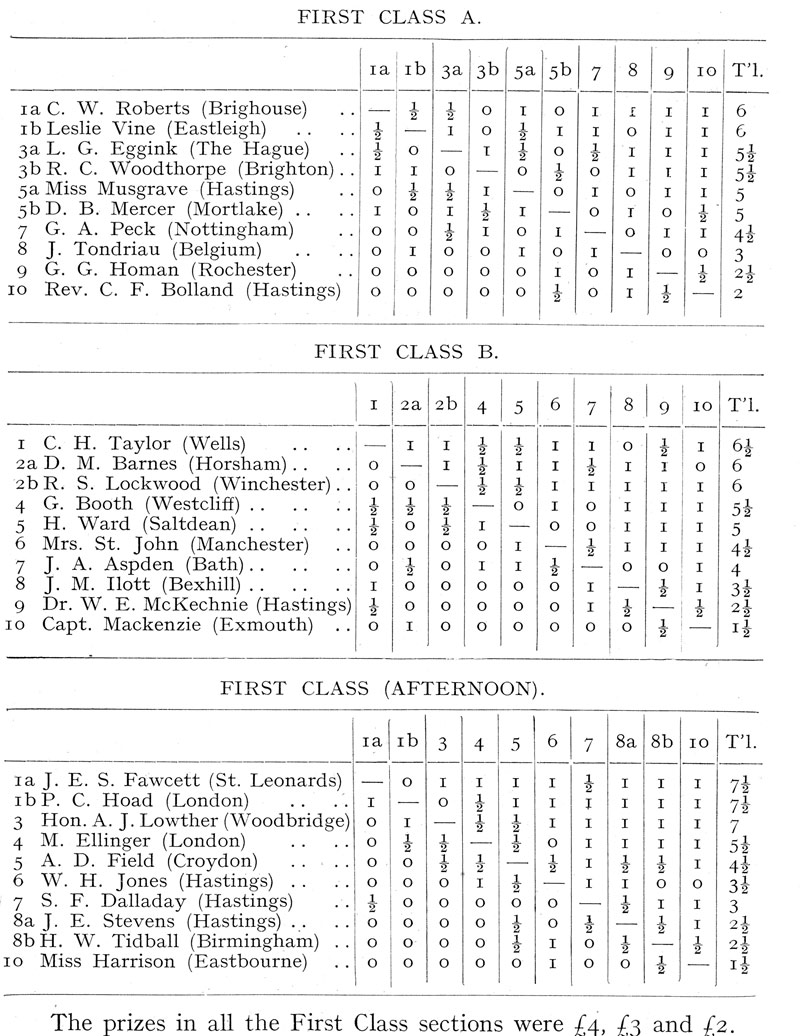 Second Class (morning) : Prizewinners—1, Tony Daukes (London) 7 (out of 11); equal 2nd, Miss Abraham (Deal), C. W. Bullows (Birmingham) and E. F. Norris (Bexhill), each 6½. Other scores— Patrick Foster (Hastings) 6; G. Newnham (Hastings), H. G. W. Vernon (Bexhill) and G. W. Woolf (St. Leonards) 5½ each; Mrs. Cobbold (London), W. J. T. Gubb (Winchester) and A. V. Zetten (Leicester) 4½ each; J. E. Coleman (Grays) 3½. A very hotly-contested section.
Second Class (afternoon) : Prizewinners— 1, Mrs. Lillie (Rye) 7½; 2, G. H. Wheeler (Hastings) 6; equal 3rd, Mrs. Healey (Hastings) and Paul Foster (Hastings) 5½ each. Other scores—W. Sharman (Hove) 5, W. M. Batten (Welwyn G.C.) and A. A. Rider (Hastings) 4 each, J. Francis (St. Leonards) 3½, F. M. Argrave (Whitstable) 3, Mrs. MacVean (Bournemouth) 1.
Prizes : £3, £2 and £1 10s.
Third Class (morning) A : Prizewinners—1, A. Trimnell (London) 9; 2, Geoffrey Daukes (London) 7; 3, Madame Alekhine (France) 6½. Other scores—V. Rigby (Coventry) 5, A. Chandler (Winchester) 4½, A. Ireland (Winchester) 4, A. Held (Winchester) 3½, L. Cannings (Coventry) 3, R. Nichol (Coventry) 2½, E. J. Powell (Hastings) 0.
Third Class (morning) B : Prizewinners—1, A. Dixon (Brighton) 9; 2, B. P. Pain (Hastings) 6; 3, W. E. Rider (Cambridge) and E. Watton (Winchester) 5½ each. Other scores— J. C. Hickey 5, Mrs. Vine (Eastleigh) and G. Benton (Burton-on-Trent) 4½ each, W. F. Freeman (St. Leonards) 4, C. Tanner 1, Miss Goodacre (Cheltenham) 0.
Third Class (afternoon) : Prizewinners—1, D. Ormonde (Cambridge) 8½; 2, E. Swanson (Hastings) 8; 3, Miss I. M. Shaw (Hastings) 6. Other scores—K. W. B. MacLeod 5½, T. C. Turk (Hastings) 4½; Mrs. Simpson (Brighton), Miss Lankey (Hastings) and Dr. G. F. N. Taylor (Hastings) 3 each, Capt. Plant 2½, Mrs. Plant 0 (Mr. and Mrs. Plant withdrew after three rounds).
Prizes : £2 10s., £1 10s. and £1.
Two special tournaments were conducted on the usual lines of preliminary sections followed by "Knock-out," by H. E. Dobell. The lightning tournament resulted : 1, F. von Seters; 2, A. D. de Groot; 3, Dr. J. C. Scheffer; 4, A. J. Peters. The prize-winners in the "Rapid" tournament (ten minutes each allowed) were : 1, Dr. Scheffer; 2, M. Feigin; 3, de Groot; 4, W. Winter.
At the final meeting for which all games were got over in good time, the Mayoress of Hastings, Mrs. Lancelot Blackman, was present to distribute the prizes. Dr. Alekhine had a very fine reception, and that of R. Fine was only a little behind. But it was evident that the large assembly, and indeed the whole chess world, was delighted to see the great master Alekhine once again winning a big tournament outright. Miss Menchik moved and Dr. Alekhine seconded, in capital speeches, a vote of thanks to the Mayor and Corporation for their interest in and financial support of the congress. Alderman Burden in reply said that the borough authorities looked on the grant as one of the best investments they made on behalf of Hastings' publicity. Reference was made also to the fact that the B.B.C. gave a few minutes daily in the 10-0 p.m. news bulletin to a description of the play, and the results and scores. Previously, only the final results have thus been taken up. Votes of thanks to the Club, the organisers and the. Lady Mayoress, were passed with acclamation. In the absence of S. Tinsley, who was not yet fully recovered from a recent operation, and was much missed, the vote of thanks to the Press, proposed by Alderman Shoesmith, was replied to by his substitute, G. E. Smith, the popular chess contributor to The Field, who was officiating for Mr. Tinsley. Mr. Smith was desirous to pass on a message from Mr. Tinsley, and this turned out to consist of "Sh-sh."!
---
File Updated
| | |
| --- | --- |
| Date | Notes |
| (previously) | Previously part of the bulk Hastings file |
| 2 September 2020 | Added dates, crosstables and results, plus 24 games and part-games from subsidiary sections. |
| 4 September 2020 | Brian Denman has kindly contributed some more games from subsidiary sections: (1) HH Cole-Sacconi, Premier Reserves A; (2) Winser-Graf, Premier Reserves A; (3) Booth-Ward, First Class B. Thanks to Brian. |
| 11 September 2020 | Following some proof-reading by Paul Georghiou, I have amended "J Sapira" in the games file to "Emmanuel Sapira". |
| 30 November 2020 | Added the game Diemer-Hammond from the Major A section. White's 19th move is a zinger! Many thanks to Ulrich Tamm. |