BRITBASE - British Chess Game Archive
Tournament: 26th British Chess Championship •
34/66 games complete, 4 part-games + 2 from Women's Ch'ship


Venue: Hastings Chess Club • Dates: 31 July - 11 August 1933 • Download PGN

• Updated: Sunday 12 November, 2017 3:06 PM
1933 British Chess Championship
| | | | | | | | | | | | | | | |
| --- | --- | --- | --- | --- | --- | --- | --- | --- | --- | --- | --- | --- | --- | --- |
| | | 1 | 2 | 3 | 4 | 5 | 6 | 7 | 8 | 9 | 10 | 11 | 12 | Pts |
| 1 | Sultan Khan,Mir | | ½ | 1 | 1 | 1 | 1 | 1 | 0 | 1 | 1 | 1 | 1 | 9.5 |
| 2 | Tylor,Theodore Henry | ½ | | 1 | 0 | ½ | 1 | 1 | 1 | 1 | 1 | 1 | 1 | 9.0 |
| 3 | Abrahams,Gerald | 0 | 0 | | ½ | ½ | 1 | 1 | 1w | 1 | 1 | 1 | 1 | 8.0 |
| 4 | Alexander,Conel Hugh O'D | 0 | 1 | ½ | | 0 | 1 | 1 | 1w | 0 | 1 | 1 | 1 | 7.5 |
| 5 | Thomas,George Alan | 0 | ½ | ½ | 1 | | ½ | 1 | 0 | 1 | ½ | 1 | 1 | 7.0 |
| 6 | Golombek,Harry | 0 | 0 | 0 | 0 | ½ | | 0 | 1w | 1 | 1 | 1 | 1 | 5.5 |
| 7 | Mortlock,Alfred | 0 | 0 | 0 | 0 | 0 | 1 | | 1w | 1 | 1 | ½ | 0 | 4.5 |
| 8 | Winter,William | 1 | 0 | 0d | 0d | 1 | 0d | 0d | | ½ | 1 | 0d | 1 | 4.5 |
| 9 | Cross,Alfred Rupert Neale | 0 | 0 | 0 | 1 | 0 | 0 | 0 | ½ | | 1 | 1 | ½ | 4.0 |
| 10 | Cole,Henry Holwell | 0 | 0 | 0 | 0 | ½ | 0 | 0 | 0 | 0 | | 1 | 1 | 2.5 |
| 11 | Colman,Eugene Ernest | 0 | 0 | 0 | 0 | 0 | 0 | ½ | 1w | 0 | 0 | | ½ | 2.0 |
| 12 | Jameson,Francis Noel | 0 | 0 | 0 | 0 | 0 | 0 | 1 | 0 | ½ | 0 | ½ | | 2.0 |
1w = walk-over
0d = default
Charles Wreford Brown played in 2 rounds, beating Jameson and drawing with Cole, but was then obliged to retire, his games being cancelled, and Mortlock being allowed to take his place.
William Winter retired through illness after 6 rounds.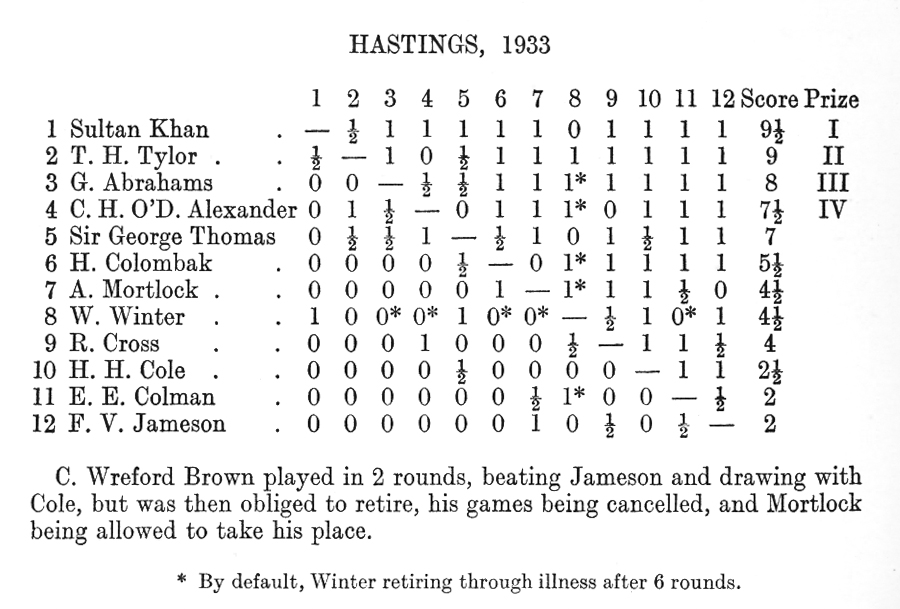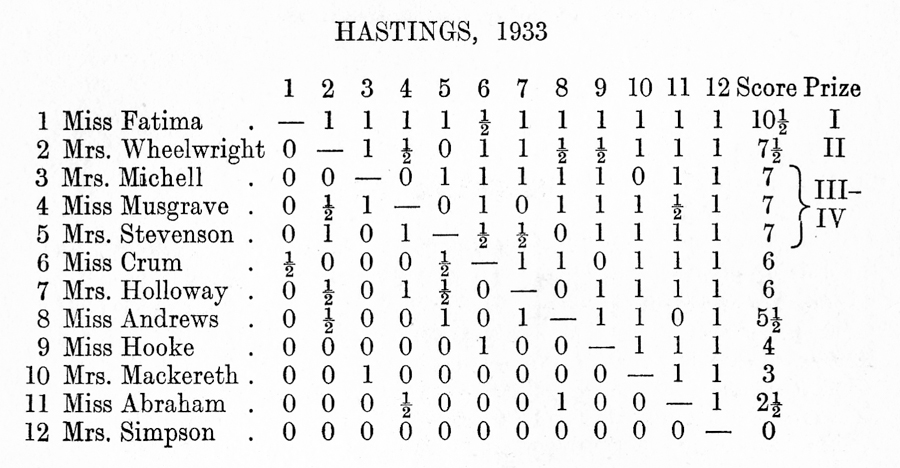 Because of the Folkestone Team Tournament (Olympiad), I don't think any other sections were played as part of the Hastings event alongside the two championship sections (nothing is reported in BCM or the Times), but they did form part of the Folkestone event. Thus the following events were held at the Folkestone Town Hall from approx. 12-23 June 1933.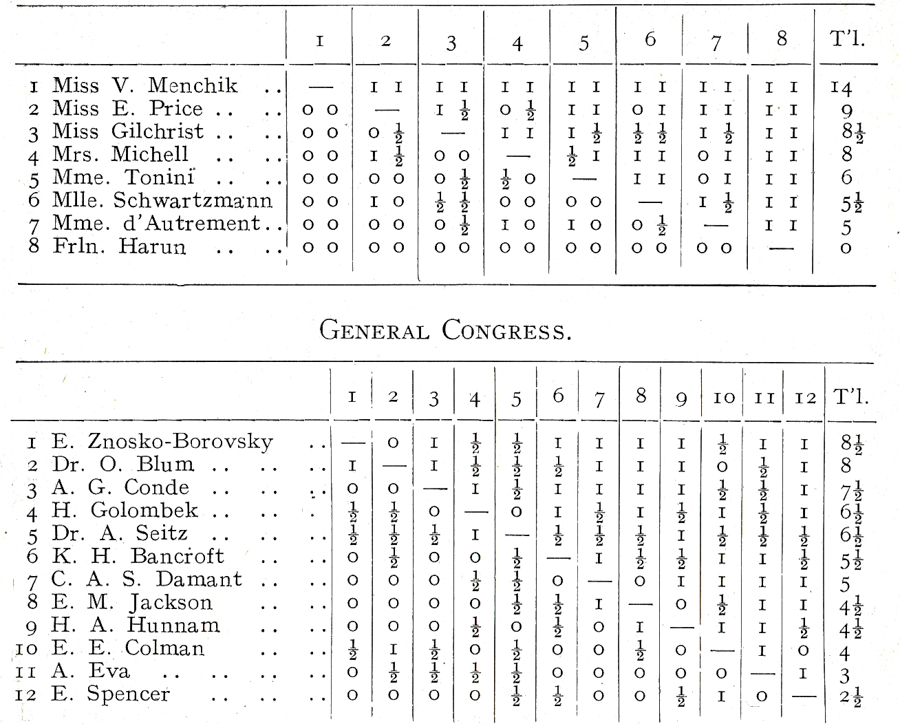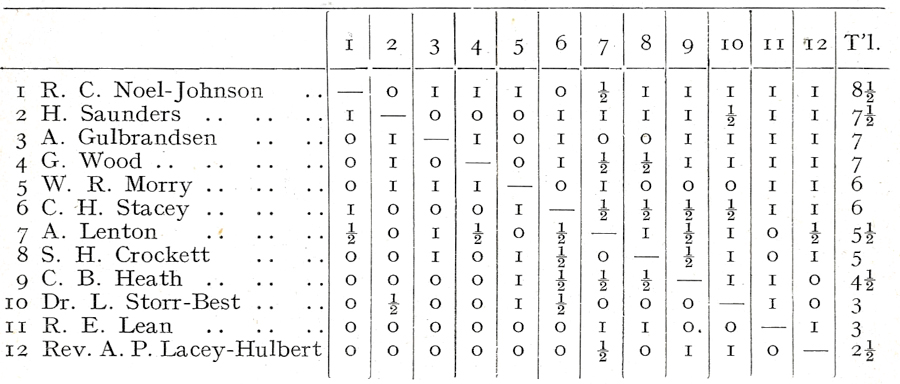 Note, the remaining tables are not in score order, but in draw order...