BRITBASE - British Chess Game Archive
Tournament: 1st British Championship (won by Napier after play-off with Atkins)
• includes play-offs & games from subsidiary events


Venue: Hastings • Dates: 22 August - 3 September 1904 • Download PGN •

updated: Thursday 27 February, 2020 3:04 PM
| | | | | | | | | | | | | | | | |
| --- | --- | --- | --- | --- | --- | --- | --- | --- | --- | --- | --- | --- | --- | --- | --- |
| | 1904 British Chess Championship | 1 | 2 | 3 | 4 | 5 | 6 | 7 | 8 | 9 | 10 | 11 | 12 | Pts | |
| 1= | Napier,William Ewart | | ½ | ½ | ½ | 1 | 1 | 1 | 1 | 1 | 0 | 1 | 1 | 8.5 | 42.00 |
| 1= | Atkins,Henry Ernest | ½ | | 1 | ½ | ½ | 0 | 1 | 1 | 1 | 1 | 1 | 1 | 8.5 | 40.50 |
| 3 | Blackburne,Joseph Henry | ½ | 0 | | 1 | ½ | 1 | 1 | 1 | ½ | ½ | ½ | 1 | 7.5 | |
| 4 | Bellingham,George Edward H | ½ | ½ | 0 | | 0 | 1 | 1 | 1 | 0 | 1 | 1 | 1 | 7.0 | |
| 5 | Michell,Reginald Pryce | 0 | ½ | ½ | 1 | | 0 | 1 | 0 | 1 | ½ | 1 | 1 | 6.5 | |
| 6 | Lee,Francis Joseph | 0 | 1 | 0 | 0 | 1 | | 0 | ½ | ½ | 1 | 1 | 1 | 6.0 | |
| 7= | Jacobs,Herbert Levi | 0 | 0 | 0 | 0 | 0 | 1 | | 0 | 1 | 1 | ½ | 1 | 4.5 | 17.50 |
| 7= | Palmer,Wilfred Charles | 0 | 0 | 0 | 0 | 1 | ½ | 1 | | ½ | 1 | ½ | 0 | 4.5 | 21.75 |
| 7= | Tattersall,Creassey Edward Cecil | 0 | 0 | ½ | 1 | 0 | ½ | 0 | ½ | | 1 | 0 | 1 | 4.5 | 21.50 |
| 10 | MacDonald,Ronald Cadell | 1 | 0 | ½ | 0 | ½ | 0 | 0 | 0 | 0 | | 1 | 1 | 4.0 | |
| 11 | Mackenzie,Arthur John | 0 | 0 | ½ | 0 | 0 | 0 | ½ | ½ | 1 | 0 | | ½ | 3.0 | |
| 12 | Chepmell,Claude Herries (Capt) | 0 | 0 | 0 | 0 | 0 | 0 | 0 | 1 | 0 | 0 | ½ | | 1.5 | |
Play-Off Match (January 1905, Hastings)
| | | | |
| --- | --- | --- | --- |
| 1 | Napier,William Ewart | ½1½½ | 2.5 / 4 |
| 2 | Atkins,Henry Ernest | ½0½½ | 1.5 / 4 |
Note on the line-up: "Mr. [Hector William] Shoosmith, however, retired at the eleventh hour, and his place was taken by Mr. A[rthur]. J[ohn]. Mackenzie of Birmingham." (Sheffield Daily Telegraph, Tuesday 23 August 1904)
Play: 7pm-10pm on the first day, thereafter 10am-1pm, with an evening session of 7pm-10pm. Time limit: 30 moves / 1½ hours in the first session, and in the second (morning session), thereafter 20 moves per hour.
Prizes: £60, £30, £20, £10. Non-prizewinners received £1 per win.
Eligibility: British subjects. The entries of Teichmann and Van vliet were not accepted. (Morning Post - Tuesday 23 August 1904)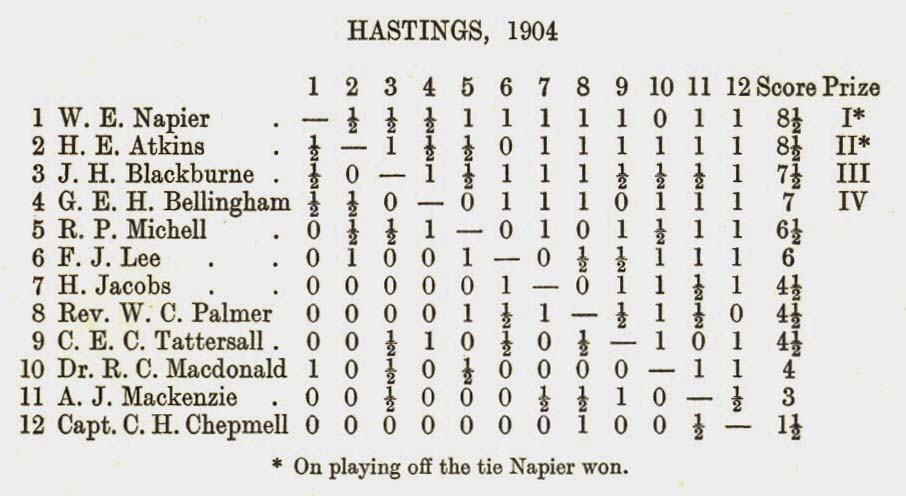 Napier won the play-off match (see above)
The prize winners were as follows British Championship.—The first and second prizes were divided between Messrs. H. E. Atkins and W. E. Napier, each receiving £45. Mr. Atkins also took the Amateur Championship Gold Medal and title of British Amateur Champion. His score against the other amateurs was 7½ points, against 7 points scored by Mr. Napier. The tie for the British Championship will be decided by a contest of four games. The match will be played during the coming Christmas holidays. Mr. J. H. Blackburne took third prize, £20, and Mr. Bellingham the fourth £10. The non-prize winners received £1 for each game won, and the aggregate sum given in this way amounted to £25. This arrangement was much appreciated by the competitors.

---
1904 British Ladies Chess Championship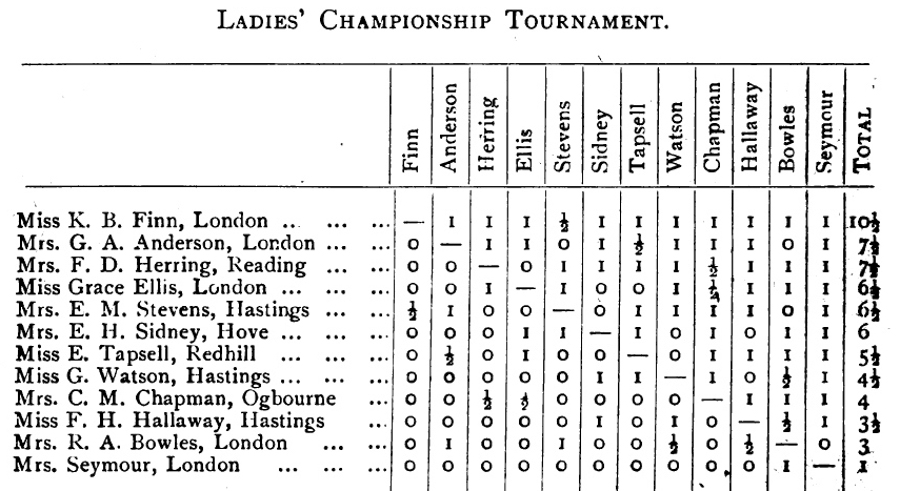 Ladies' Championship.—Gold Championship Medal and £10, Miss Kate B. Finn, London; Mrs. Herring and Mrs. Anderson tied tor second and third, and divided; Mrs. Stevens and Miss Ellis tied for third and fourth, and also divided.
The draw order for the British Ladies' Championship was as follows: (1) Mrs CM Chapman (Wiltshire); (2) Mrs Emily Margaret Stevens (Hastings); (3) Miss Grace Moore Ellis (London) (who won the 1908 British Ladies' Championship as Mrs Curling); (4) Mrs Gertrude Alison Beatrice Anderson (née Field) (London); (5) Mrs Seymour (London); (6) Mrs Rhoda Annie Bowles (London); (7) Miss Fanny Harriette Hallaway (London); (8) Miss Edith Mary Ann Tapsell (later Michell) (Redhill); (9) Miss Kate Belinda Finn (London); (10) Miss G(eorgiana?) Watson (Hastings); (11) Mrs Frances Dunn Herring (née Gwilliam) (Reading); (12) Mrs Helen Eliza Sidney (Brighton) (this draw order derived from what appears in the Daily Telegraph & Courier, 23 August 1904, and also The Field, 3 September 1904, showing a partially completed crosstable in draw order) - pairings for each round can be derived using the details shown here.
---
1904 First Class A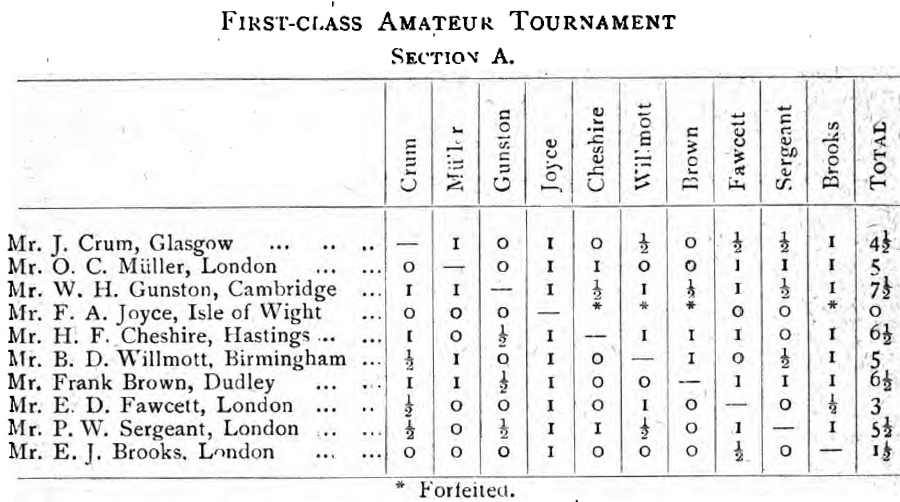 1904 First Class B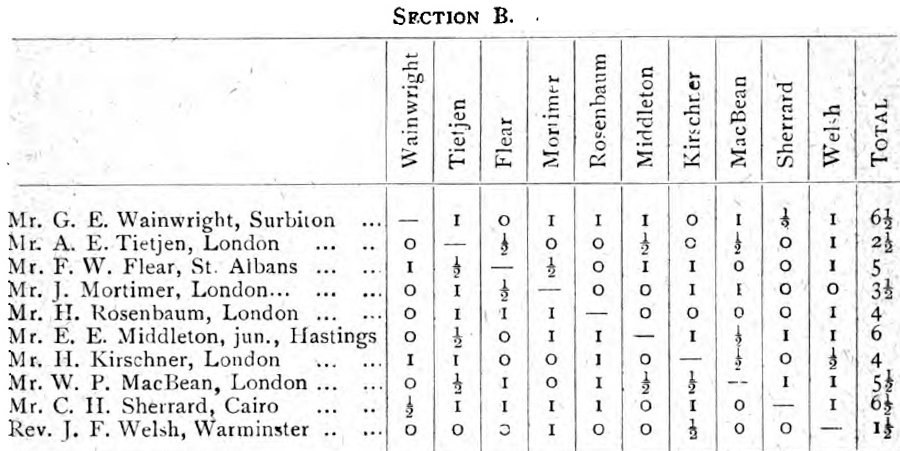 1904 First Class C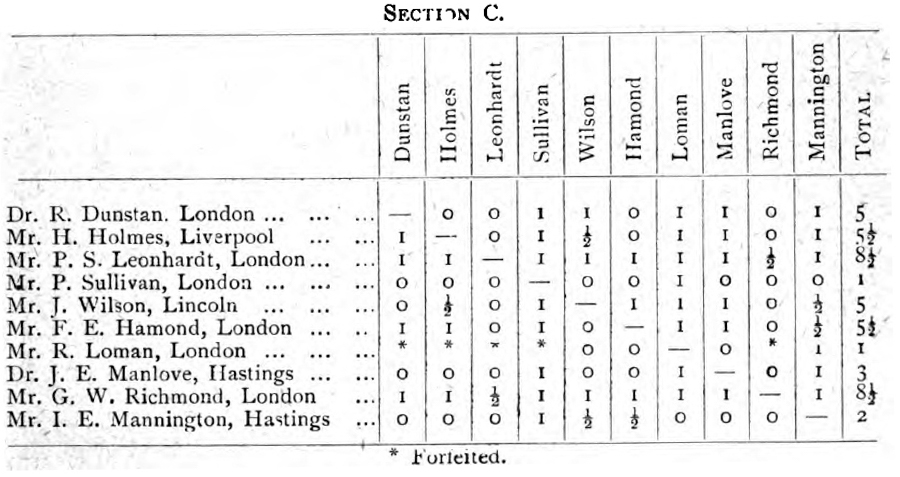 First Class Amateurs.—It was intended that the section winners should playoff for the following division of the first prize money (£45): £20, £15, and £10, but owing to want of time it was eventually decided that the arrangement of £15 and £7 10s. to each section should be adhered to, and the distribution was therefore as follows: Section A—first prize, £15, Mr. W. H. Gunston; Mr. H. F. Cheshire took second prize £7 10s., after a tie with Mr. Frank Brown, who could not stay to play off, and resigned to Mr. Cheshire after a private arrangement respecting the prize money. Section B—first prize, £15 Mr. C. H. Sherrard and Mr. G. E. Wainwright tied with points, but Mr. Sherrard won the deciding game and gained the first prize, Mr. Wainwright taking £7 10s. In Section C there was a tie between Mr. G. W. Richmond and Mr. P. S. Leonhardt with 8½ each. Mr. Richmond won the deciding contest and took the premier reward, £15; Mr. Leonhardt, £7 10s.
---
1904 Second Class A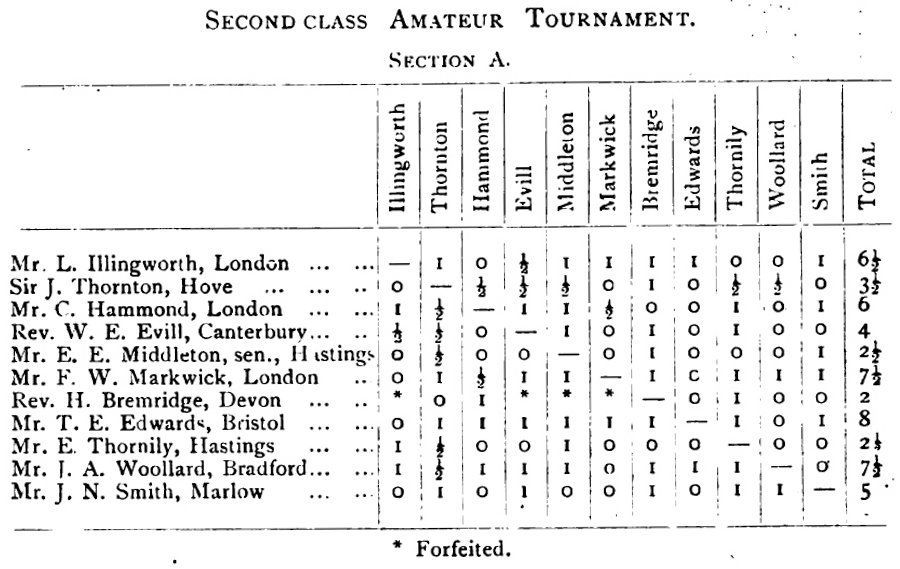 1904 Second Class B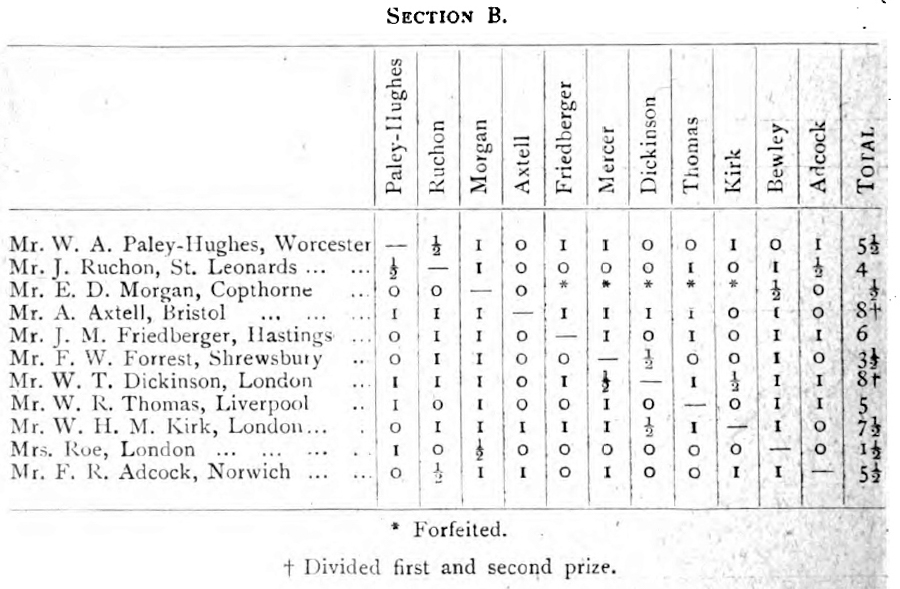 The entries in the second and third class amateur contests were so numerous that the committee divided the competitors in both events into sections, giving prizes to each section. The results were—Second Class Amateurs, Section A, first £10, second £5. The fighting in this section was so close between the leading players that they made a private arrangement that the winner of first prize should take £7 only, the balance, £3, being set apart to provide a third prize in the section. The prize takers came out as follows : first, Mr. T. E. Edwards; second and third, Mr. J. A. Woollard and Mr. F. W. Markwick, ex aequo. Section B—first, £10, Mr. A. Axtell; second, £5, Mr. W. T. Dickinson.
---
1904 Third Class A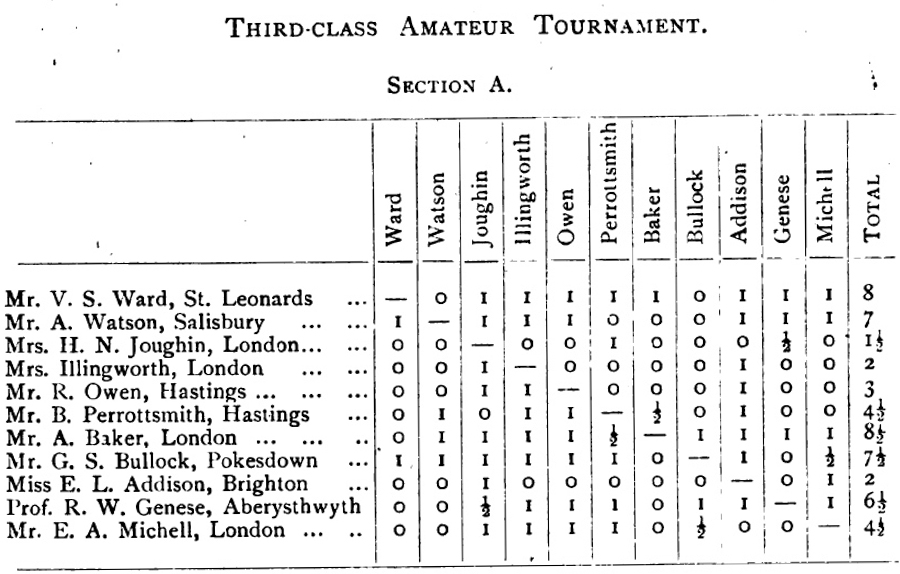 1904 Third Class B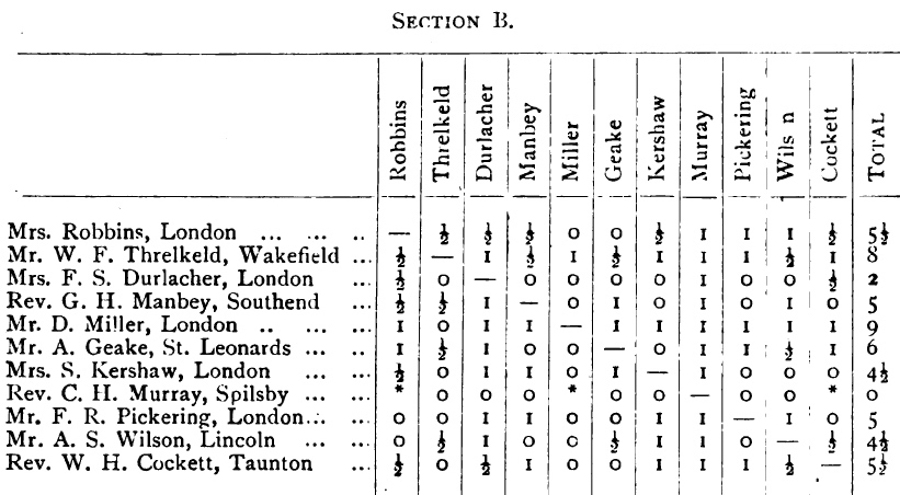 1904 Third Class C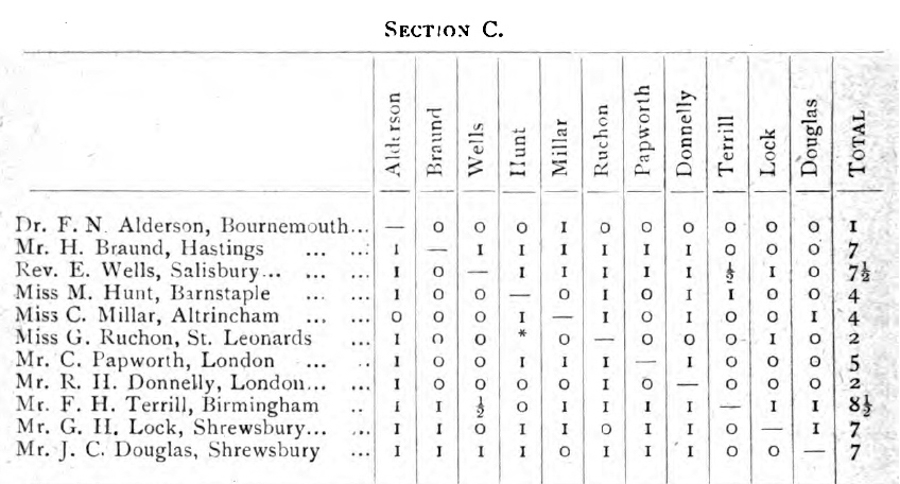 1904 Third Class D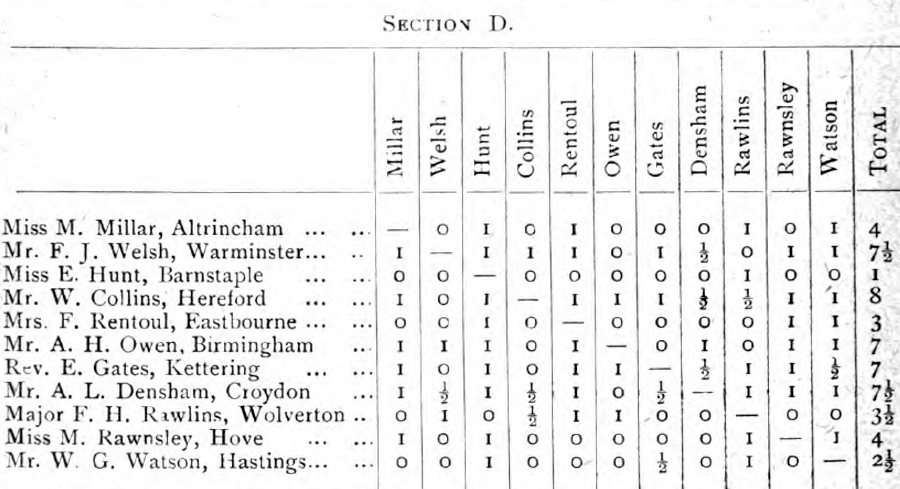 Third Class Amateurs, four sections, with £5 and £2 10s. to each section. Winners : Section A—Mr. A. Baker, first; Mr. V. S. Ward, second. Section B—Mr. D. Miller, first; Mr. W. F. Threlkeld, second. Section C—Mr. F. H. Terrill, first; Rev. E. Wells, second. Section D—Mr. W. Collins, first; Mr. A. L. Densham and Mr. F. J. Welsh, ex aequo, second.
---
1904 First Week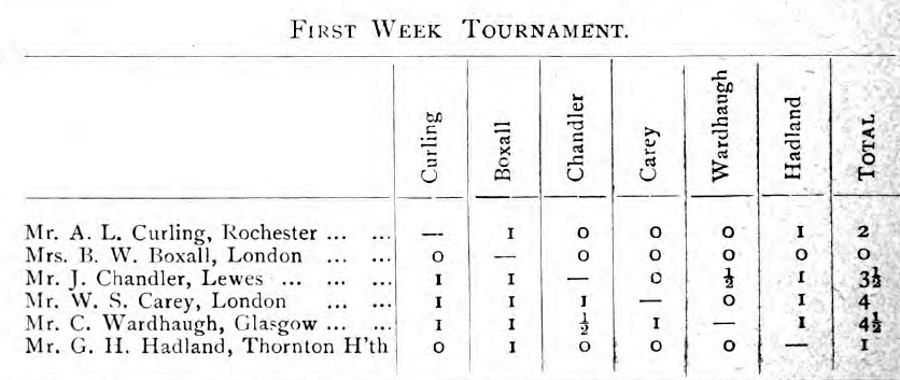 First Week Tournament.—Two prizes, and £2 10s. Mr. Wardhaugh took first and Mr. Carey second.
During the fortnight there were several lightning tournaments arranged, and the prizes were furnished by the entrance fees. Messrs. C. Hammond, Napier, F. E. Hamond and Macdonald each winning a first prize.
---
1904 Evening Play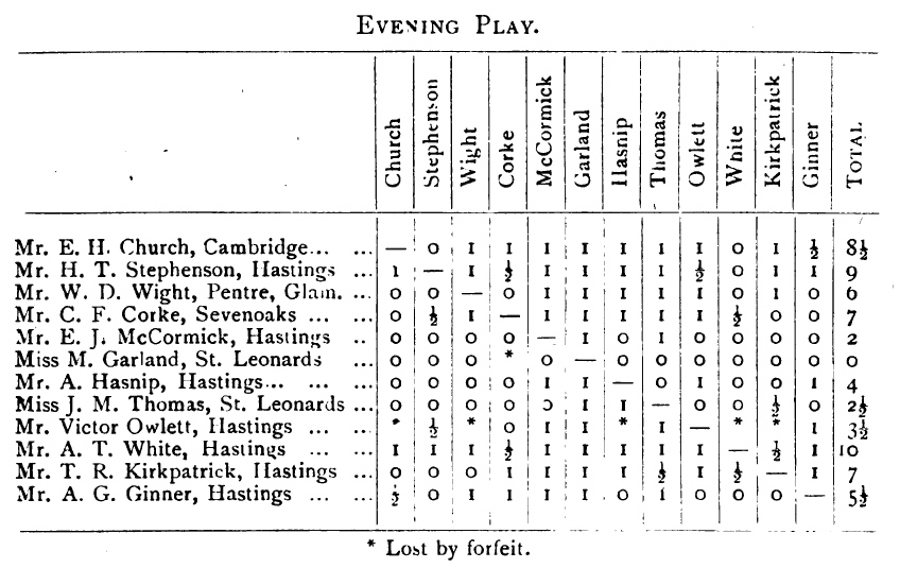 Evening Tournament.—First prize, £5 ; second, £3; third. £2 ; fourth, £1 7s. 6d. The winners of first three prizes were Mr. A.T White, Mr. H. S. Stephenson, and Mr. C. H. Church, in the order named. The fourth prize was divided by Mr. Corke and Mr. Kirkpatrick.

---
Biographical note (added 10 Oct 2017): Bernard Dinwoody Wilmot, who scored 5/11 in First Class A, was to acquire a certain notoriety. (Note, this is his full, real name, but his surname was regularly spelt 'Willmott' in a chess context. 'Dinwiddy' in the press cutting below seems to be a typo.) In November 1907 he was sentenced to five years' penal servitude for setting fire to his premises in Regent Place, Birmingham (ref. Birmingham Daily Gazette, 26 November 1907 - further details of the case made be found in Birmingham Daily Gazette, 17 October 1907). In 1911 he was still serving this sentence in Maidstone Prison. He was born in West Bromwich in 1864, and died in Stratford-upon-Avon in 1949.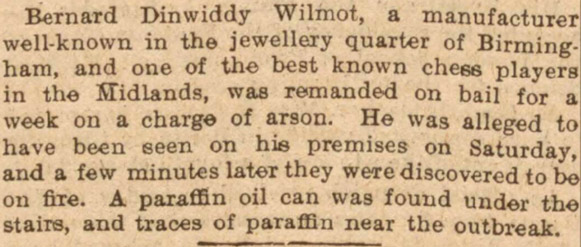 Manchester Courier and Lancashire General Advertiser - Wednesday 02 October 1907
---
| | |
| --- | --- |
| Date | Notes |
| 24 August 2015 | Seven more games added, many thanks to Brian Denman. |
| 3 Sept 2015 | Two more subsidiary event games (Fawcett-Wilmott and Mortimer-Kirschner) added. |
| 8 Sept 2015 | Two more subsidiary games added, many thanks to Gerard Killoran and Brian Denman. |
| 23 Feb 2016 | Two more games added - Anderson 0-1 Finn (Women's Championship) and Leonhardt 1-0 Hamond (First Class C). Thanks to Gerard Killoran. |
| 10 Oct 2017 | Blackburne 1-0 Jacobs, Round 3, amended to include additional moves found in Yorkshire Post and Leeds Intelligencer, 27 August 1904. Added three new games: Brooks 0-1 Wilmot, Round 1, First Class A; Muller 0-1 Gunston, First Class A; and Flear 1-0 Welsh, Round 4, First Class B. Biographical details re BD Wilmot/Willmott added. |
| 03 July 2017 | Final four moves added to the incomplete first game of the Napier-Atkins play-off match |
| 21 July 2017 | Score of Tattersall-Blackburne (Rd 4) added. |
| 3 May 2018 | Four more games from subsidiary competitions added: Sherrard-Wainwright (First Class A), Tietjen-Rosenbaum (First Class A), Axtell-Adcock (Second Class B), Forrest-Adcock (Second Class B). My thanks to Gerard Killoran. On Gerard's advice I have also replaced the crosstables from The Field (which proved to be faulty) with those from BCM (which seem to be more accurate and have useful extra data showing where players came from). |
| 28 Feb 2019 | Added 1 game: Bowles-Stevens, British Women's Championship, Rd 6. Many thanks to Brian Denman. |
| 27 Feb 2020 | Added 1 game: Hallaway-Tapsell/Michell* (Rd 2, women's championship). Many thanks to Brian Denman. * I have recorded this as Edith Michell rather than her unmarried name Tapsell, to avoid confusion. |