BRITBASE - British Chess Game Archive
Britbase Chess Archive : Material from the 1930s - Part 1
Last Edited: Tuesday January 5, 2021 4:54 PM
Most of the material assembled below was taken from volumes of English Counties' Chess Unions Combined Yearbooks, which were very kindly supplied by Maurice H Carter. If readers have an additional material or corrections/amendments to material already published, I would be delighted to feature them here.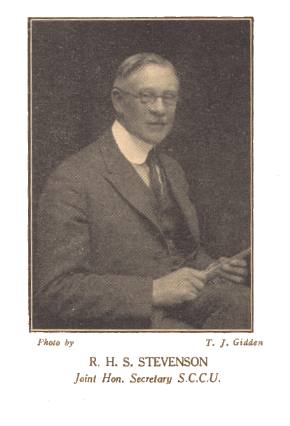 RHS Stevenson (pictured left) is now better known as the husband of famous Woman's World Champion Vera Menchik (1906-1944). His full name was Rufus Henry Streatfeild Stevenson (1878-1943) and he was a noted chess organiser in the UK. He was Kent County Champion in 1919. In 1931 he edited the Home News for the British Chess Magazine and dealt with subscriptions.
In 1931 Stevenson and his first wife Agnes Bradley (née) Lawson (abt November 1873, Hartlepool, Durham - 20 August 1935), herself a four-times British Ladies' Champion) lived in SW4 and played for the Lewisham St Mary's club, but the first Mrs Stevenson died in a tragic and bizarre accident in Poland in August 1935. She had been picked to play in the Women's World Championship in Warsaw and arrived in Posen (now known as Poznan) by plane from Berlin. Having completed the passport formalities, she was returning to the aircraft. Thinking it was just leaving, she ran for it, and unfortunately approached the front rather than the back, ran straight into the propellors which had just been started up and was killed. Stevenson married Vera Menchik in 1937, at which time he was the Kent County Hon.Sec, having previously been the match captain. He later became the BCF Hon.Sec.
---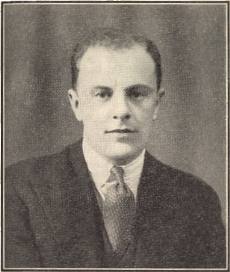 Pictured right, is Reginald Charles Noel-Johnson (6 March 1904 - 2001), who was Kent Champion in 1927, 1931, 1932 and 1935 and played in the British Championship in 1936. He was a musician and composer by profession and, amongst other things, wrote incidental music to accompany Enid Blyton's broadcast readings of her 'Noddy' stories. Here are two examples of his play:
---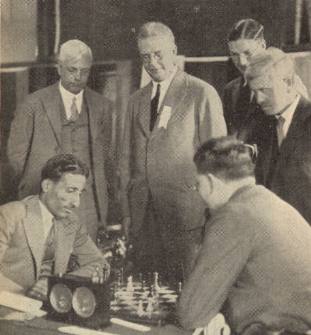 Pictured playing left at Worcester, c.1931, are Mir Sultan Khan (1905-1966) (on the left, playing black) and Theodore H. Tylor (1900-1968) (right, playing white). Spectators include Sir George Thomas (1881-1972) (far left) and Arthur J Mackenzie (1871-1949) (far right). Sultan Khan won the British Championship in 1929, 1932 and 1933, returning in the latter year to India whence he never returned. Sir George Thomas won the British Championship in 1923 and 1934, and was a world-class badminton player as well as a fine hockey and lawn tennis player. Theodore Tylor won the British Correspondence Chess Championship in 1932, 1933 and 1934, and suffered the handicap of near-blindness. In 1965 he was knighted for his service to organizations for the blind. He was Fellow and Tutor in Jurisprudence at Balliol College, Oxford. At chess he finished in high positions in several British Championships and played on board 5 in the England team at the Hamburg 1930 Olympiad (Thomas was on board 3 and Sultan Khan on board 1). Mackenzie was a strong player (top board for Warwickshire) and was president of the MCCU at the time of the photograph. He went on to play for Scotland in the Folkestone Olympiad 1933.
---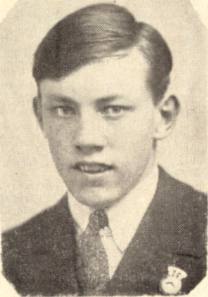 HAMPSHIRE CHESS CHAMPION, 1931
Extract from the Combined Yearbook, 1931
"Graham Powell Britton, a son of Berry G. Britton, B.Sc. (London), Senior Science Master at Taunton's School, Southampton, has won the highest honour in Hampshire chess in his eighteenth year.
"This distinction has been gained at the expense and in competition with the most seasoned players of the county, and G. P Britton's feat is likely to stand as a school record in county chess achievements for long years to come.
"It is not unlikely that this youthful player will come into greater prominence should he succeed in entering one of the older Universities. His brother, Gordon Berry Cowley Britton, won the Southampton Exhibition to Queen's College, Oxford, last year, and has since been awarded a State scholarship.
"The united good wishes of all Hampshire chess enthusiasts will go out to their new champion in his other quest, for he too has just been awarded a State scholarship, and has reasonable hopes of graduating at Cambridge in the coming year.
"Berry C. Britton, an associate of the Royal College of Science, has been associated with the chess teams of Taunton's School for many years, and his efforts towards the propagation of the royal game amongst the students has already furnished the county with a growing coterie of good class players.
"The Headmaster, F. J. Hemmings, B.Sc. (London), is a vice-president of the Hampshire Chess Association."
Graham Britton was still an active player until well after the Second World War.
---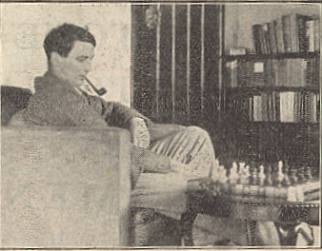 GSA Wheatcroft (1905-87) was British Correspondence Chess Champion in 1935 and represented England at the Stockholm 1937 Olympiad. His full name was George Shorrock Ashcombe Wheatcroft but he was familiarly known as 'Ash'. He was President of the BCF from 1953 to 1956. Educated at New College, Oxford, he was Professor of English Law at the LSE, 1959-68, and acknowledged as a standard authority on tax law. Here is a near miss against Keres at the Margate 1939 tournament:
---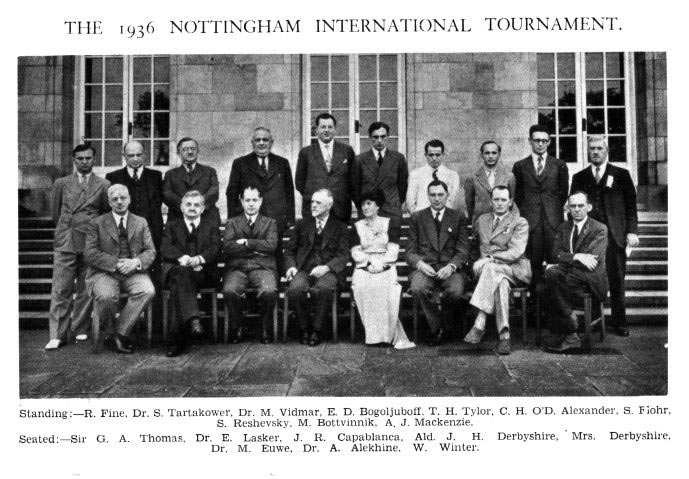 Click here for full details and games of the 1936 Nottingham tournament
1936 Nottingham Tournament
Nationality
1
2
3
4
5
6
7
8
9
10
11
12
13
14
15
Total
1
Mikhail Botvinnik
USSR
½
½
½
½
½
½
½
1
1
1
1
1
1
½
10
2
José Raúl Capablanca
Cuba
½
½
½
1
1
0
½
1
½
½
1
1
1
1
10
3
Max Euwe
Netherlands
½
½
½
1
0
½
0
1
½
1
1
1
1
1
9½
4
Reuben Fine
USA
½
½
½
½
½
½
1
½
1
½
1
1
½
1
9½
5
Samuel Herman Reshevsky
USA
½
0
0
½
1
½
1
1
1
½
1
1
1
½
9½
6
Alexander Alekhine
France
½
0
1
½
0
1
½
½
1
1
½
1
½
1
9
7
Salo Flohr
Czechoslovakia
½
1
½
½
½
0
1
1
1
½
0
0
1
1
8½
8
Emanuel Lasker
USSR
½
½
1
0
0
½
0
½
1
½
1
1
1
1
8½
9
Milan Vidmar Sr
Yugoslavia
0
0
0
½
0
½
0
½
1
½
½
1
½
1
6
10
Efim Bogoljubow
Germany
0
½
½
0
0
0
0
0
0
½
1
1
1
1
5½
11
Saviely Tartakower
Poland
0
½
0
½
½
0
½
½
½
½
0
0
1
1
5½
12
Theodore Henry Tylor
Great Britain
0
0
0
0
0
½
1
0
½
0
1
½
½
½
4½
13
C Hugh O'D Alexander
Great Britain
0
0
0
0
0
0
1
0
0
0
1
½
½
½
3½
14
George Alan Thomas
Great Britain
0
0
0
½
0
½
0
0
½
0
0
½
½
½
3
15
William Winter
Great Britain
½
0
0
0
½
0
0
0
0
0
0
½
½
½
2½
Reference Bibliography : "Oxford Companion to Chess" (Hooper & Whyld, Oxford University Press, 1996), "Chess : The Records" (Whyld, Guinness Books, 1986)