BRITBASE - British Chess Game Archive
Tournament: 22nd British Chess Championship •
32 of 66 games, plus 1 part-game and 11 games from subsidiary events)


Venue: Chatham House School, Ramsgate • Dates: 29 July - 9 August 1929 • Download PGN

• Tuesday 24 August, 2021 3:08 PM
1929 British Chess Championship
1929 British Chess Championship
1
2
3
4
5
6
7
8
9
10
11
12
Total
1
Sultan Khan,Mir
1
1
½
½
½
0
1
1
1
½
1
8
2
Michell,Reginald Pryce
0
1
½
0
½
1
½
1
1
1
½
7
3
Price,Hubert Ernest
0
0
½
½
1
1
½
1
1
½
1
7
4
Morrison,John Harold
½
½
½
1
0
0
1
1
1
0
1
6½
5
Tylor,Theodore Henry
½
1
½
0
½
1
½
0
½
1
1
6½
6
Winter,William
½
½
0
1
½
1
½
0
½
1
1
6½
7

Hamond,Francis Edward (Rev)

1
0
0
1
0
0
½
1
0
1
1
5½
8
Drewitt,John Arthur James
0
½
½
0
½
½
½
1
0
1
1
5½
9
Abrahams,Gerald
0
0
0
0
1
1
0
0
1
1
1
5
10
Fairhurst,William Albert
0
0
0
0
½
½
1
1
0
1
½
4½
11
Eva,Arthur
½
0
½
1
0
0
0
0
0
0
0
2
12
Kirk,Wilfred Hugh Miller
0
½
0
0
0
0
0
0
0
½
1
2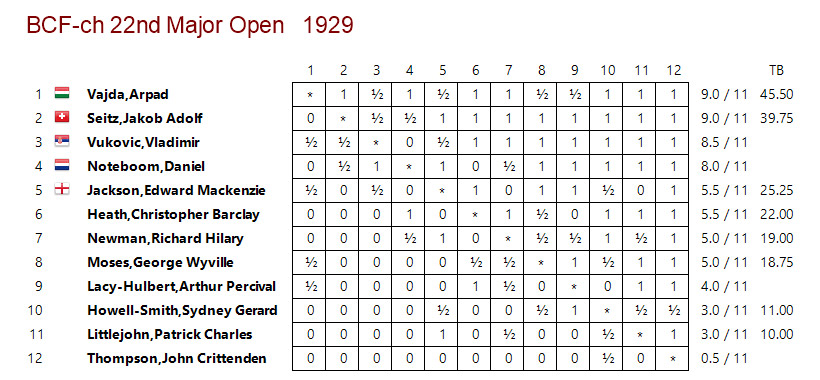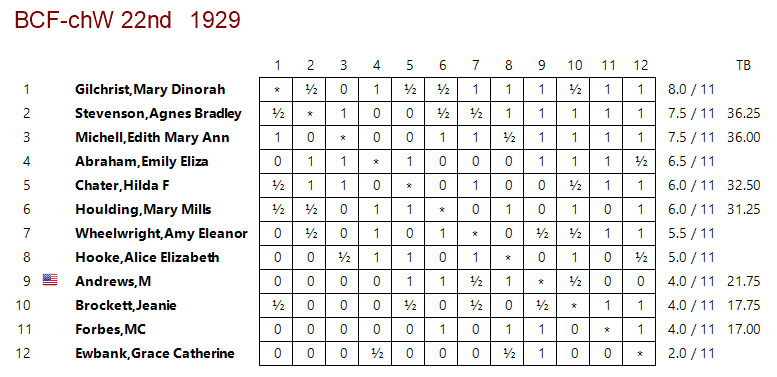 Draw order for Championship: 1 Eva, 2 Morrison, 3 Fairhurst, 4 Tylor, 5 Price, 6 Winter, 7 Hamond, 8 Abrahams, 9 Kirk, 10 Drewitt, 11 Michell, 12 Sultan Khan.
Draw order for Women's Championship: 1 Brockett, 2 Ewbank, 3 Andrews, 4 Abraham, 5 Forbes, 6 Hooke, 7 Chater, 8 E.Michell, 9 Gilchrist, 10 Houlding, 11 Stevenson, 12 Wheelwright.
Draw order for Major Open: 1 Howell-Smith, 2 Lacy-Hulbert, 3 Noteboom, 4 Heath, 5 Thompson, 6 Moses, 7 Littlejohn, 8 Jackson, 9 Vajda, 10 Seitz, 11 Vukovich, 12 Newman.
(Info from Glasgow Herald, 17 August 1929) (Pairing numbers and colours for early British Championship may be found here.)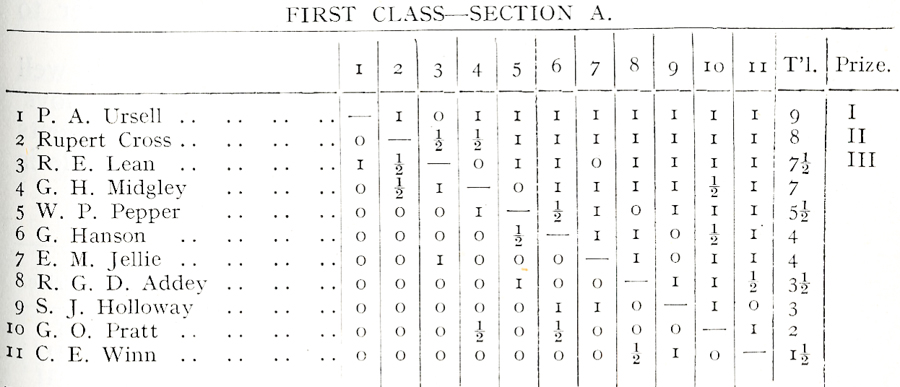 Spelling - the last player in the above section was Charles Edward WYNNE (1889-1966). See biographical note inserted in his game with Lean.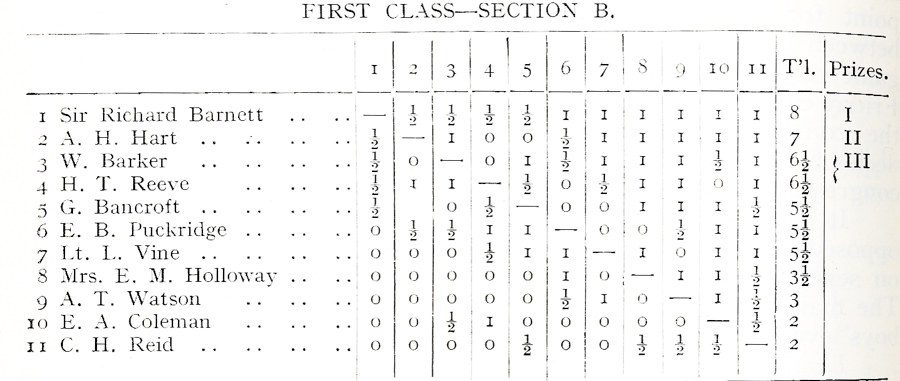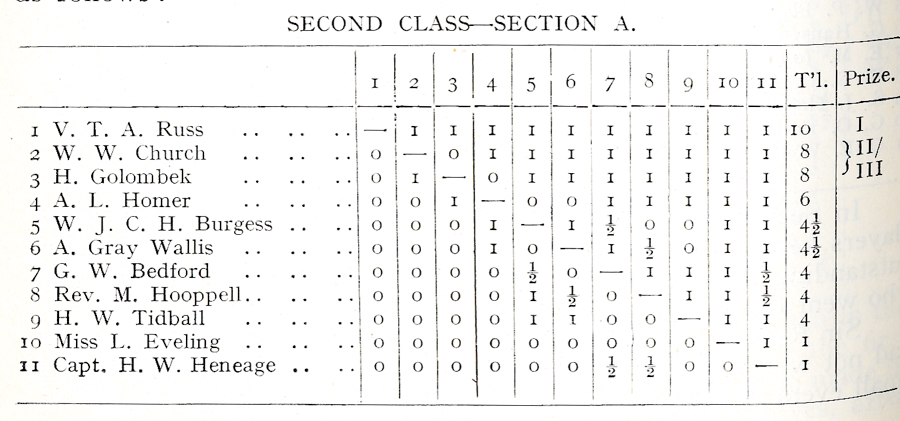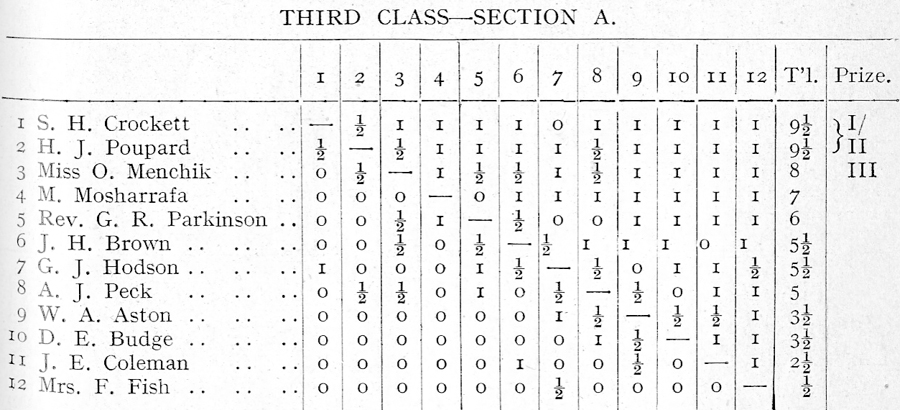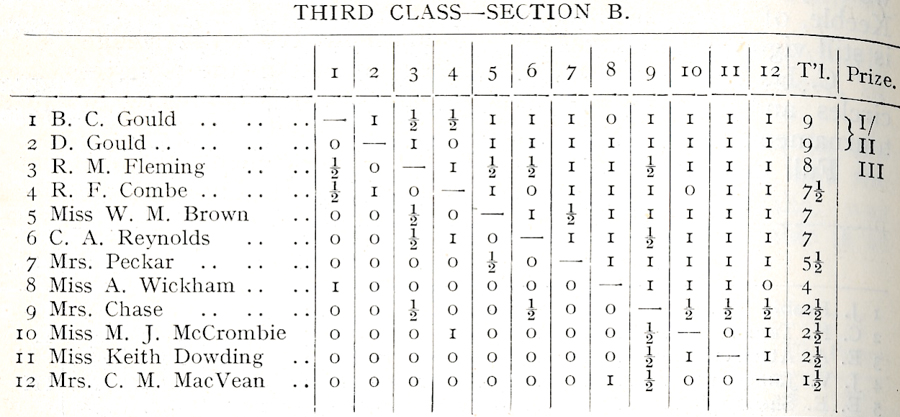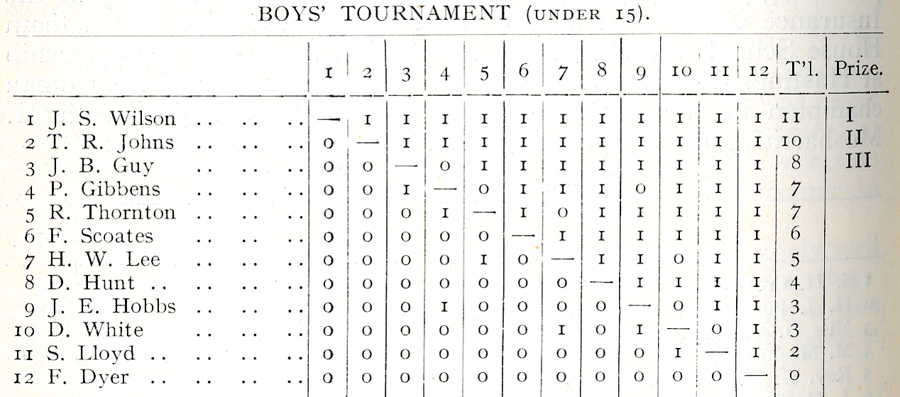 The above Boys' Under-15 tournament was not recognised as a British Junior Championship, but consisted mainly of local schoolchildren. (At that time the British Junior Championships were held separately at Hastings Chess Club during Easter.) The winner was from the venue school (Chatham House School, Ramsgate - n.b. future British PM Edward Heath would have been a pupil at this school at the time the tournament was played).
Lightning Tournament (2 August 1929, 52 entrants): 1 Dr Vajda (Hungary), 2 D Noteboom (Holland), 3 CE Wynne (Cairo), 4 E. E. Shepherd (Oxford).
---
| | |
| --- | --- |
| Date | |
| 23 February 2016 | Added the Eva-Winter (Rd 5) game, the Winter-Hamond (Rd 11) game - a brevity - and Seitz-Jackson, from the Major Open. |
| 26 February 2016 | Added six new, complete game scores from the championship proper and three subsidiary event games. Many thanks to Gerard Killoran. |
| 27 March 2016 | Added two games from subsidiary sections - Jackson-Vajda and Lean-Wynne - plus I have removed the spurious game Michell-Gilchrist from the 1929 women's championship as it was a wrongly-dated duplicate of the game played between the same players at the 1934 British Championship. Many thanks to Brian Denman. |
| 27 April 2018 | Added game Eva-Sultan Khan (Rd 11) - thanks to Gerard Killoran |
| 25 February 2020 | Added two Major Open games: Noteboom-Howell-Smith (Rd 2) and Thompson-Noteboom (Rd 6). I found them on Mega Database 2017 where they were wrongly attributed to the Kent Easter Tournament, played in Ramsgate. However, I'm 99% certain that they were played in the Major Open, also played in Ramsgate in July/August. Mega Database notes that "no source could be found for [these games]". I think the source may have been a book on Noteboom by Euwe, where it may have only referenced the place where the games were played, hence the confusion. |
| 27 February 2020 | I've just discovered I can add three more Daniel Noteboom games from the Major Open: Vukovic-Noteboom (Rd 1), Vajda-Noteboom (Rd 10) and Noteboom-Seitz (Rd 11). These come from a file of Daniel Noteboom compiled by Michel Langeveld which I received some time ago, I think via his historical games email list. |