BRITBASE - British Chess Game Archive
Tournament: 21st British Chess Championship • 37 of 66 games
(plus 1 part-game + 14 others from subsidiary sections)


Venue: Tenby • Dates: 2-13 July 1928 • Download PGN • Last Edited: Tuesday 24 August, 2021 3:06 PM

Venue: Gate House Assembly Rooms, Tenby, Pembrokeshire, Wales. For this congress, the BCF changed the time limit to 36 moves in 2 hours, then 18 in subsequent hours, from the previous 20 moves per hour. (Yorkshire Evening Post - Monday 18 June 1928)
1928 British Chess Championship
1928 British Chess Championship
1
2
3
4
5
6
7
8
9
10
11
12
Total
1
Yates,Fred Dewhirst
0
½
1
½
1
0
1
1
1
1
1
8
2
Buerger,Victor
1
1
½
1
0
0
1
1
1
0
1
7½
3
Winter,William
½
0
½
1
0
1
0
1
1
1
1
7
4
Thomas,George Alan
0
½
½
0
1
1
1
1
½
1
0
6½
5
Fairhurst,William Albert
½
0
0
1
1
½
0
1
1
1
½
6½
6
Spencer,Edmund
0
1
1
0
0
½
½
0
1
1
1
6
7
Saunders,Harold
1
1
0
0
½
½
0
½
½
½
1
5½
8
Barlow,Henry Stephens
0
0
1
0
1
½
1
0
0
1
1
5½
9
Drewitt,John Arthur James
0
0
0
0
0
1
½
1
0
1
1
4½
10
Watts,William Henry
0
0
0
½
0
0
½
1
1
0
½
3½
11
Morrison,John Harold
0
1
0
0
0
0
½
0
0
1
1
3½
12
Heath,Christopher Barclay
0
0
0
1
½
0
0
0
0
½
0
2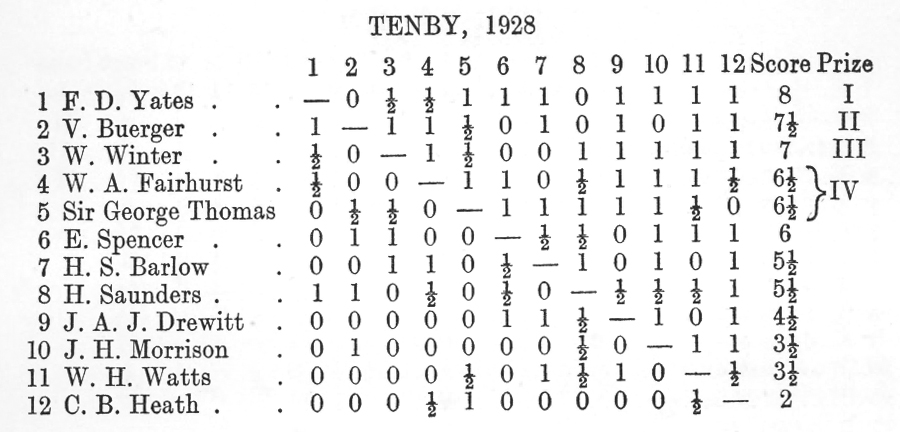 (Names and initials of women players were Miss E. E. Abraham, Miss M. Andrews, Miss H. Cotton*, Mrs. G. C. Ewbank, Miss M. C. Forbes, Miss A. E. Hooke, Mrs. M. M. Houlding, Miss F. Hutchison Stirling, Miss S. Malcolm, Miss M. Musgrave, Miss E. C. Price, and Mrs. A. Stevenson. As listed in Exeter and Plymouth Gazette - Thursday 21 June 1928. (* full name Charlotte Helena Minchin-Cotton (1873-1929) - CN 11107, November 2018)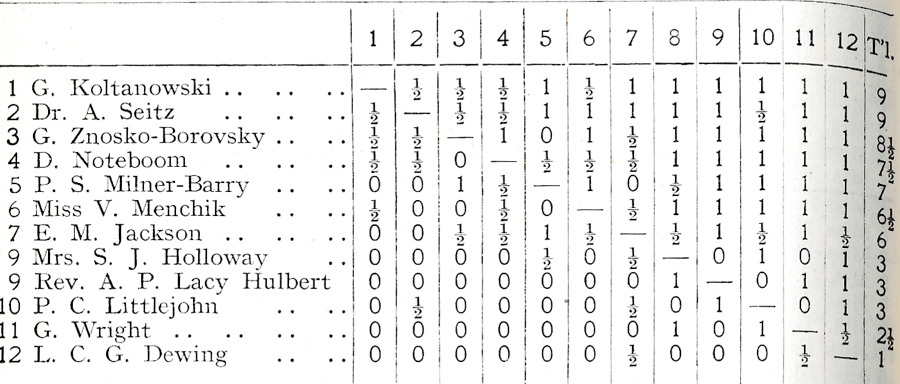 Draw numbers for the Major Open: 1 Littlejohn, 2 Jackson, 3 Holloway, 4 Milner-Barry, 5 Znosko-Borovsky, 6 Lacy Hulbert, 7 Koltanowski, 8 Wright, 9 Seitz, 10 Noteboom, 11 Menchik, 12 Dewing (use in conjunction with the pairing rules given here in order to determine who played whom and with which colour).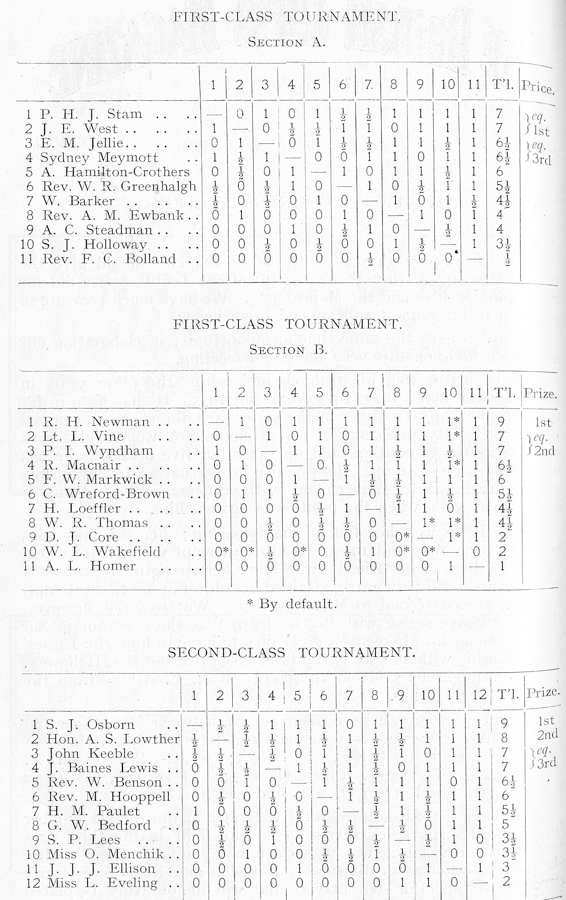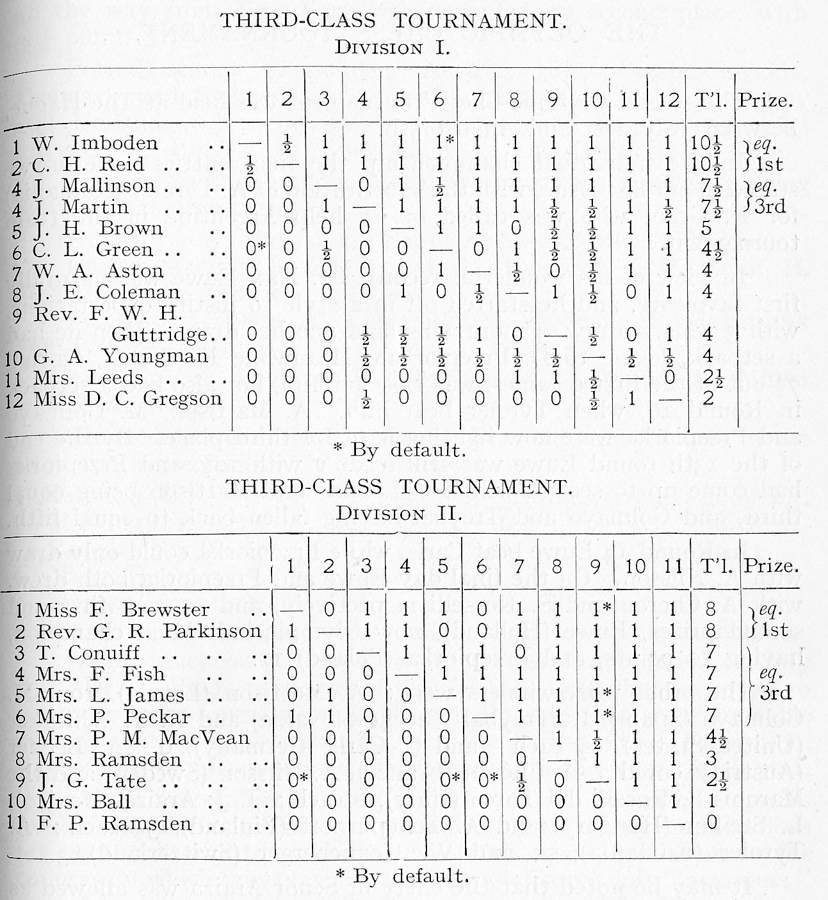 In First Class, Section "A," P. H. J. Stam, of Leyden, and J. E. West, of Ashton-under-Lyne, tied for first place, with a score of 7, the former losing to West and to S. Meymott. West lost to Rev. A. M. Ewbank and E. M. Jellie, who shared the third prize with Meymott, with a score of 6½. They were followed by A. Hamilton-Crothers, with 6; Rev. W. R. Greenhalgh, with 5½; W. Barker, 4½; Rev. A. M. Ewbank and A. C. Steadman, 4; S. J. Holloway, 3½, and Rev. F. C. Bolland, ½. There were only eleven competitors in this and Section " B," which was won by R. H. Newman, of Oxford, with a score of 9. P. I. Wyndham, of the Hampstead Club, and L. Vine tied for second and third prizes, with a score of 7. They were followed by R. McNair, 6½ ; F. W. Markwick, 6 ; C. Wreford-Brown, the well-known international footballer and member of the Imperial Chess Club (as were many others of the competitors), W. R. Thomas and H. Loeffler, 4½ ; D. J. Core and W. L. Wakefield, 2 ; A. L Homer, 1.
The Second Class Tournament ended in a victory for S. J. Osborne (who, despite his years, cycled down to Tenby from London and back), with a score of 9, losing only one game to Paulet. The Hon. A.J. [Arthur James Beresford] Lowther was second, with a score of 8, and there was a tie for third prize between J. Keeble, the well-known problemist, and J. Baines-Lewis, with a score of 7. They were followed by Rev. W. Benson, 6½; Rev. M. Hooppell, with 6; H. M. Paulet, 5½ ; G. W. Bedford, 5, Miss O. Menchik and S. P. Lees, 3½ ; J. J. Ellison, 3; Miss L. Eveling, 2.
The Third Class, Division 1, resulted in a tie between two members of the Imperial Chess Club, C. H. Reid and W. Imboden, who drew with one another, but won all their other games; with a score of 10½. There was also a tie for third prize between J. Mallinson and J. Martin, with 7½. The remaining scores were : J. H. Brown, C. L. Green, 4½ ; W. A. Ashton, J. E. Coleman, Rev. F. W. H. Gutteridge and G. A. Youngman, 4 ; Mrs. Leeds, 2½; Miss D. C. Gregson, 2.
Division 2 also resulted in a tie between Rev. G. K. Parkinson and Miss F. Brewster, with a score of 8 out of 10. There was a quadruple tie for third place between Mrs. F. Fish, Mrs. L. Jones, Mrs. P. Peckar and T. Conniff, with a score of 7 ; Mrs. MacVean, 4½ ; J. G. Tate, 3½; Mrs. Ramsden, 3 ; Mrs. Ball, 1 ; F. P. Ramsden, 0.
The prizes were distributed by the Mayoress, Miss Jenkins, and at the farewell gathering Mr. Stevenson mentioned how very readily the Mayor and Corporation, and officials of the South Wales Chess Association, had met all requests with regard to facilities for the Congress. The players in the championship expressed the opinion that they were better off at Tenby than at any other meeting that had been held. The lighting in their part of the room was excellent, and chairs were so placed that onlookers could not disturb them. The room held all the competitors with comfort, although in the other part of the hall artificial light was necessary.
The golf, tennis and bathing were all excellent and there were many very pretty walks and motor rides. Special presentations were made to the organizers, R. H. S. Stevenson and R. G. Kyte, from the competitors. The Mayor, Mrs. Jenkins, said that she hoped that even if it was not likely there would be another congress at Tenby for at least six years, many of the competitors would come to Tenby for their holidays, and it is more than likely that many will act on her suggestion.