BRITBASE - British Chess Game Archive
Tournament: 138th Varsity Match • Venue: RAC, Pall Mall, London • Date: 7 March 2020
Download PGN • List of Varsity Matches • Back to 2019 • Forward to 2021 • edited Thursday March 24, 2022 10:31 AM
John Saunders reports: The 138th Varsity Chess Match between Oxford University and Cambridge University was held at the Royal Automobile Club, Pall Mall, London on 7 March 2020. The match sponsors were the Royal Automobile Club. The chief match arbiter was Matthew Carr who was also in charge of operating the live boards. Cambridge won the toss and chose White on the odd boards.
2019«

2020 Varsity Chess Match

»2021
Bd
Oxford University
Rating
Nat
2½–5½
Cambridge University
Rating
Nat
1b
Victor Vasiesiu (Hertford)
2276f
ROU
½-½
Matthew Wadsworth (Queens')
2416m
ENG
2w
Joris Gerlagh (University)
2262
NED
½-½
Conor Murphy (Christ's)
2394f
IRL
3b
Daniel Abbas (Magdalen)
2240f
ENG
0-1
Ryan Rhys Griffiths (Wolfson)
2351f
IRL
4w
Filip Mihov (Balliol)
2213
MKD
½-½
Jonathan Tayar (Homerton)
2344m
CAN
5b
Akshaya Kalaiyalahan (Regent's Park)
2149f
ENG
0-1
Harry Grieve (St Catharine's)
2359f
ENG
6w
Nashlen Govindasamy (St Anne's)
2055c
RSA
½-½
Declan Shafi (Pembroke)
2158
SCO
7b
Andrew Rogozinski (Worcester)
1880
USA
0-1
Gustavo Leon Cazares (Selwyn)
2085
MEX
8w
Daniel Sutton (St John's)
1874
ENG
½-½
Imogen Camp (Queens')
1849wc
WLS
Av. Rating = 2118.6
2½–5½
Av. Rating = 2244.5
© 2020 John Saunders, all photos and text - not to be used without permission
The guest of honour, Iranian arbiter Shohreh Bayat, was invited to toss a coin on behalf of the two captains at the starting ceremony. Daniel Abbas, as captain of the Oxford team which had won the previous year, had the privilege of calling heads or tails whilst the coin was in the air. It came down the wrong way for him and the Cambridge non-playing captain Gwilym Price duly chose White on the odd boards. This ultimately proved a most felicitous decision and, despite the Cambridge captain having no further part in proceedings until the time came for him to be presented with the Margaret Pugh Trophy, it can perhaps be said with hindsight that he made the most decisive move of the day.
The match programme listed Daniel Gallagher (Pembroke) as the Cambridge board six but he had had to withdraw through illness. Commiserations to Daniel for missing out. Into his place came the Cambridge reserve, Declan Shafi. The 19-year-old Scot thus became the 500th player to represent Cambridge in the match's history (484 players have played for Oxford - we are thus a handful of matches away from reaching a round figure of 1,000 players who have had the honour to represent their university in this famous fixture). The change of line-up lowered the Light Blues' average rating to 126 Elo points per board, so they remained pre-match favourites to end the Dark Blues' run of three straight victories (the best run of form they have enjoyed since the 1990s).
Match commentator at the venue was GM Matthew Sadler, giving typically positive and upbeat verdicts on play, in an adjoining room. One other GM was present in the commentary room, namely Ray Keene, also making occasional judgements on moves played. These two have also been British champions, of course, as has a third player present at the match - 1965 British chess champion Peter Lee. Though there were perhaps fewer major figures of British chess in attendance than we are accustomed to seeing on this occasion (the effect of coronavirus?), there was still a good turn-out to enjoy Matthew's always entertaining, charitable and educational commentary.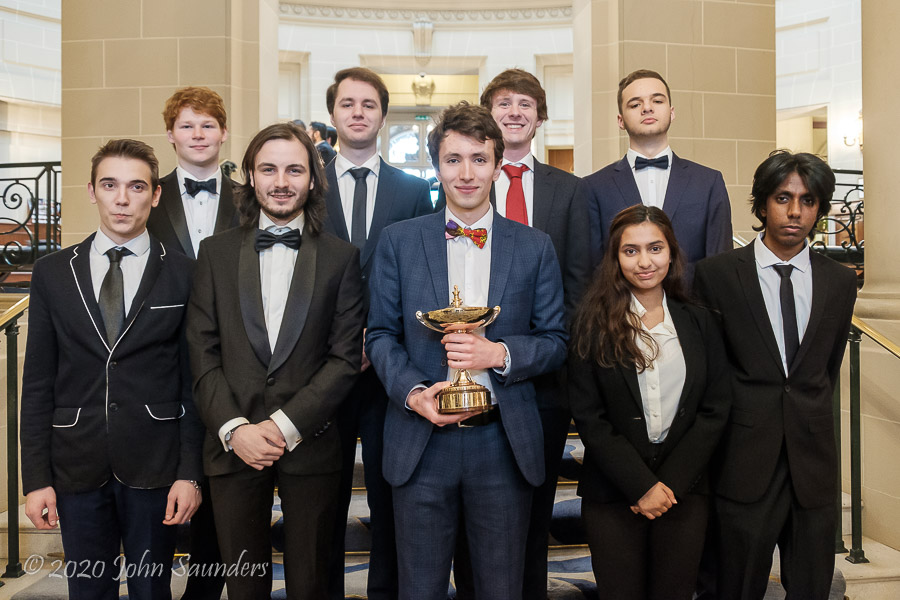 Oxford University team (left to right): Filip Mihov, Andrew Rogozinski, Joris Gerlagh, Victor Vasiesiu, Daniel Abbas (captain), Daniel Sutton, Akshaya Kalaiyalahan, Charalampos Kokkalis (reserve), Nashlen Govindasamy.
After team photos were taken in the time-honoured way, in the foyer of the RAC, play started around 12.30pm and proceeded smoothly until 4pm when first blood went to Cambridge. Ryan-Rhys Griffiths defeated the Oxford captain Daniel Abbas on board three. Black may have done better to swap queens when the chance came his way, though this line of the Nimzo-Indian does look somewhat cramped anyway. As it was, Black was soon in a fix, and White might have won the black queen with a two-move tactic on move 24, but the end wasn't long in coming anyway. This game was awarded the brilliancy prize, an artwork by Barry Martin, plus a tankard.
Fifteen minutes later, Cambridge went 2-0 ahead as Gustavo Leon Cazares (Mexico) beat Andrew Rogozinski (USA) on board seven. The 33-year-old Mexican, studying for a chemical engineering doctorate and playing his fourth Varsity match, is one tough hombre, as I was to discover after the match (I challenged him to a few games of blitz after dinner and he thrashed me unmercifully). Despite Cambridge suffering three straight defeats between 2017 and 2019, Gustavo's personal score in those matches was a win and two draws, so he's now on three points from a possible four. The rating differential of 200+ between White and Black perhaps made the difference. Black allowed the opponent to take a firm grip on the centre at an early stage and never looked like shaking it. Faced with positional disaster, he tried a desperate exchange for pawn sacrifice but it never looked likely to work.
Another quarter of an hour had ticked by when hostilities ceased between Matthew Wadsworth and Victor Vasiesiu on top board. The Romanian player's 20...b5 surprised onlookers but he was able to back it up with accurate play, even having a fleeting chance for an edge later on.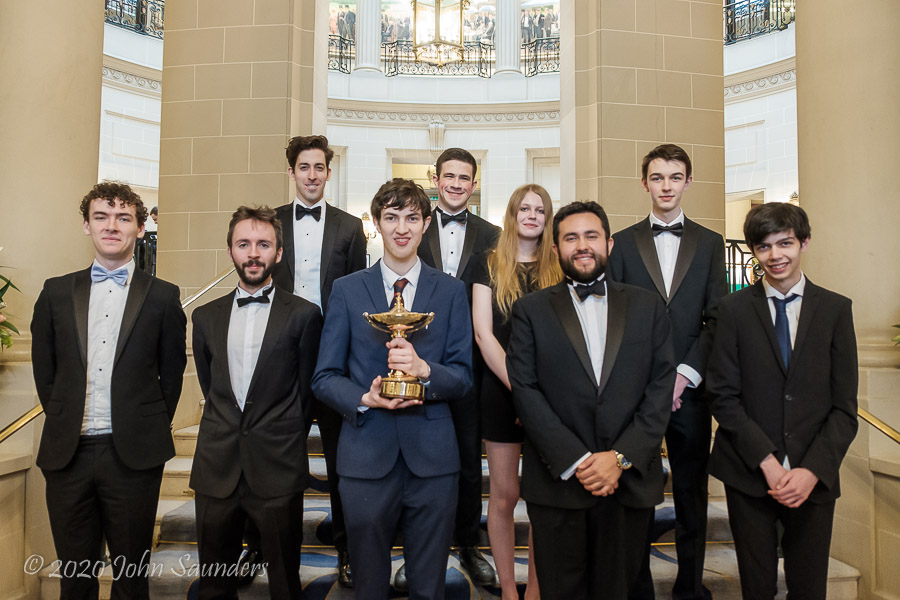 Cambridge University team (left to right): Conor Murphy, Ryan-Rhys Griffiths, Jonathan Tayar, Gwilym Price (non-playing captain), Matthew Wadsworth, Imogen Camp, Gustavo Leon Cazares, Harry Grieve, Declan Shafi.
Cambridge were now 2½-½ up, but it was noticeable that the Light Blues had been White in all three of the first games to finish. On the stroke of five o'clock Cambridge made it 3½-½ from their four games with White as Harry Grieve beat Akshaya Kalaiyalahan. This battle between the two English 18-year-olds swayed slightly one way and then the other, with White looking better out of the opening but then Black having a very decent middlegame position. However, the pendulum than swung back again. After the exchange of queens and a pair of minor pieces, White soon had much the better of a double rook ending where the quality of White's far-advanced passed pawn counted for more than Black's extra material where the pawns were barely out of the starting blocks. Perhaps the 200+ rating differential made a difference here too.
The playing room now looked somewhat lopsided, with all four boards on one side vacated, but battle still fully joined on the other. It was now a matter of what Oxford could do with their own four games with White. Perhaps the ½-3½ deficit resulting from their travails with Black proved to be too great a psychological burden.
One curiosity was that, by this stage, each remaining board featured a player with an extra pawn, with Oxford having three extra pawns to Cambridge's one. Assuming the extra pawn won in all cases, that wouldn't have been enough to rescue a result but the first of the four to finish was on board four where Canadian IM Jon Tayar, representing Cambridge, had the extra pawn but the position was utterly drawn, so a draw was agreed on move 48, at around 5.40pm. It was a pretty good save by Oxford's Filip Mihov. Suddenly there was the tantalising prospect of Oxford cashing in their pawn advantage on each of the remaining boards to secure a draw in the match.
Attention turned to board two, where Conor Murphy had riskily opted to let his d-pawn go early in the middlegame. After a number of exchanges he emerged a pawn down, but with some compensation in the shape of two active bishops which covered the advance of Joris Gerlagh's three disconnected, non-passed pawns quite effectively. At 5.50pm Joris Gerlagh conceded the draw that gave Cambridge the 4½ points they needed for victory in the match, with two games still unfinished.
This took the pressure off the two remaining Cambridge players, still both defending a pawn deficit. But defending it stoutly, it must be said. I was particularly impressed by the way Imogen Camp stayed cool after blundering a pawn to a familiar tactic on move 21, leaving her a pawn down for nothing. Apparently unfazed, she hit upon a plan of reducing her opponent's rook to passive defence, even at the cost of a second pawn. Analysis engines reveal it shouldn't have been enough to save the game, but for a human player there were very real problems in deciding how to proceed. One can empathise with Daniel Sutton's quandary. Eventually, on move 43, he decided to exchange queens and get down to a rook and pawn endgame, but that proved to be his undoing as Imogen Camp was able to eliminate all the pawns on one side of the board and reach a draw with some comfort. That said, as someone who has witnessed many players with (supposedly) easily drawn endgames go astray in the tension that always features large in this long-hallowed fixture, Imogen's accurate play was rare and commendable.
Ten minutes later, at 6.10pm precisely, the match was concluded. Board six ended on move 92 after a fascinating struggle between the South African player Nashlen Govindasamy and Cambridge's last-minute stand-in Declan Shafi from Scotland. The game became interesting as early as move 9 when White diverged from Grünfeld orthodoxy by pushing his d-pawn. Shortly thereafter there was a remarkable passage of play, during which much material was hoovered off, with Black's c6-pawn delivering a highly visual sequence of captures, munching its way through two pawns, a knight and a bishop on successive moves before itself being consumed on e2. White, not to be outdone, retaliated with an a-pawn march, even threatening to queen it should Black exchange rooks on a7. Black was obliged to sacrifice the exchange to avert this catastrophe, but was able to restore material equality via a further tactic. Perhaps relaxing too soon, Black erred in recapturing on f8 with the wrong piece on move 23, allowing his opponent a promising way to swap queens and develop menacing threats on the queenside. Black was soon obliged to give up a pawn. Like his Celtic colleague on board eight, the Cambridge board six stayed cool and defended actively. In truth, the resultant endgame looks very hard to win, and even computers fail to come up with anything significantly better than White's actual play. Soon pawns only remained on one side of the board and, despite a long and valiant attempt, White could find no way to exploit his extra material. Only the kings remained on the board at the end. This game was judged by Matthew Sadler to be the best of the match. This decision, though eminently correct, proved problematic later at the prizegiving since the prize - an artwork by Barry Martin - was indivisible. I was rather hoping this would be decided by the two players being invited to make speeches arguing why they were the more deserving of the prize, but in fact the conundrum was resolved by the more mundane method of a coin toss. This time, unlike the fateful coin toss enacted earlier in the day, Oxford was successful and Nashlen Govindasamy from South Africa is now the proud and worthy possessor of a Barry Martin original.
So, victory to Cambridge by 5½-2½, breaking Oxford's sequence of three straight wins and widening the overall gap between the teams to four matches (Cambridge have won 60 matches to Oxford's 56, with 22 drawn). This was the first time since 2003 that the losing team had failed to win any individual games but one feels Oxford were more than a little unlucky that their positional and material advantage in several games proved so hard to convert.
At the closing dinner, held in the same room as always, guest of honour Shohreh Bayat gave a short speech thanking the organisers and the many people who have supported her since coming to stay in the UK. David Sedgwick paid tribute to her in a moving speech (link given below).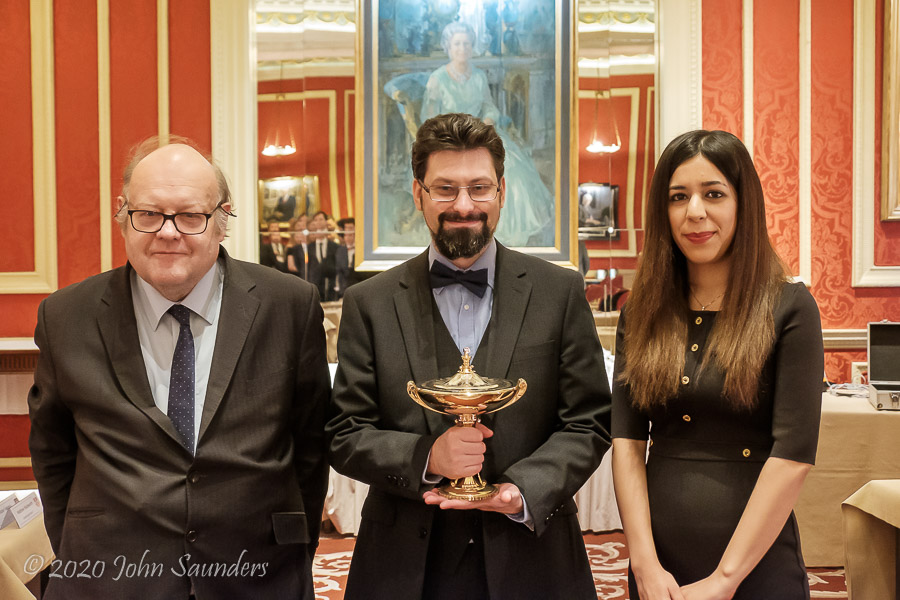 Match officials David Sedgwick, Matthew Carr, Shohreh Bayat
Video of David Sedgwick's speech at the dinner
My personal thanks to Stephen Meyler, Rob Matthews, Henry Mutkin and all at the RAC for their generosity and efficiency in staging this match so splendidly as they always do.