BRITBASE - British Chess Game Archive
Britbase Chess Archive : Material from the 1930s - Part 3
Last Edited: Wednesday April 26, 2023 9:02 AM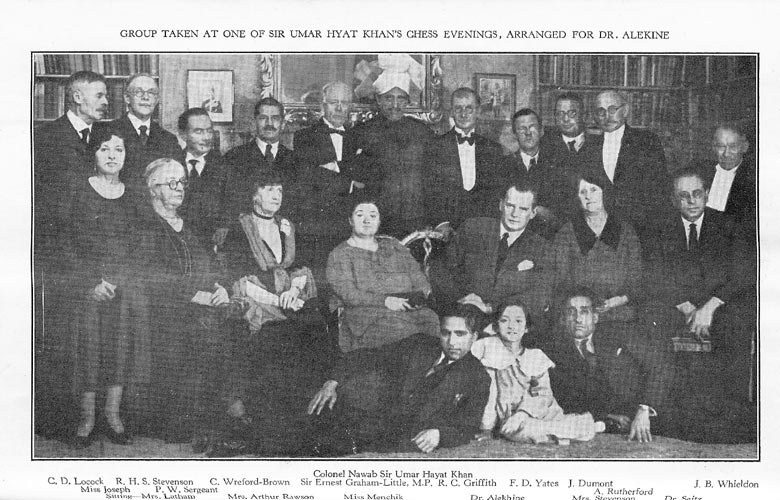 Group Photo, BCM, February 1932.
Heading: "Group taken at one of Sir Umar Hyat Khan's Chess Evenings, Arranged for Dr. Alekine [sic]"
Also, on p71 of the February 1932 BCM: "Colonel Sir Umar Hayat Khan arranged one or two receptions at his residence in honour of Dr. Alekhine, the Champion of the World. On each evening a dinner followed, characterised by all Sir Umar's well-known hospitality. On December 15th after full justice had been done to the repast, speeches were made by Sir Ernest Graham-Little, M.P., J. Whieldon, C.Wreford-Brown and R.C.Griffith; Miss Vera Menchik and Dr. Alekhine himself responded to the good wishes and thanks accorded them by the company. The group photograph we give as frontispiece was taken by Malik Ghulam Mohammed Khan, one of the most trusty of Sir Umar's entourage and a warrior of great distinction. The small photo hanging on the right of the mirror (behind R.C. Griffith and F.D. Yates) shows Sir Umar in his official robes as Herald of the Princes at the great Durbar."
Second from the right in the back row is Arthur Rutherford (1866-1958) who played in the 1886 Varsity chess match.
---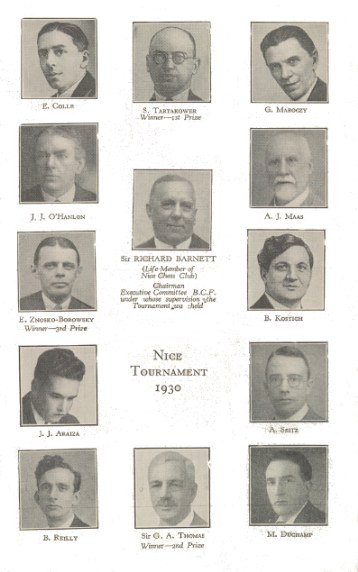 Nice 1930, 13-23 February
1930 Nice Masters (France)
Nat'y
1
2
3
4
5
6
7
8
9
10
11
12
Total
1
Saviely Tartakower
FRA
1
1
½
1
1
½
½
1
½
1
1
9
2
Sir George Alan Thomas
ENG
0
1
1
½
1
½
1
1
½
1
1
8½
3
Eugene Znosko Borovsky
FRA
0
0
1
1
½
1
1
½
1
1
1
8
4
Boris Kostic
YUG
½
0
0
½
½
1
½
1
1
1
1
7
5
Edgard Colle
BEL
0
½
0
½
½
1
1
1
0
1
1
6½
6
Geza Maroczy
HUN
0
0
½
½
½
½
1
1
½
1
1
6½
7
Dr. (Jakob) Adolf Seitz
SUI
½
½
0
0
0
½
½
½
1
1
1
5½
8
José Joaquín Araiza Muñoz
MEX
½
0
0
½
0
0
½
½
1
1
1
5
9
Marcel Duchamp
FRA
0
0
½
0
0
0
½
½
1
1
1
4½
10
Brian Patrick Reilly
IRL
½
½
0
0
1
½
0
0
0
1
½
4
11
Arthur J Maas
FRA
0
0
0
0
0
0
0
0
0
0
1
1
12
John J O'Hanlon
IRL
0
0
0
0
0
0
0
0
0
½
0
½